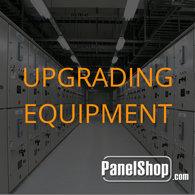 In any industry, upgrading equipment is a pain point. Upgrading is expensive and many companies do not see the value of installing a new system. The reason that many companies do not see the value is because only roughly 30% of the new system's capabilities are utilized. Once the benefits of a new equipment is realized, and utilized, upgrading equipment becomes an advantage and not a pain point.
Full Potential of New Equipment
Often, machines are run and repaired for as long as possible until repairs become too expensive or impossible. That is when upgrades are inevitable and a new system is bought. However, the new machinery is often used to do the exact same function as the previous equipment when in reality it can do so much more with new automation technology.

Another reason that the full potential of new equipment is not utilized is that many facilities operate with a lot less in-house engineers than they used to. With less engineers, it is hard for new technologies to be applied in a way that will add value to production. Even if the dated equipment is running perfectly, it does not mean that production is being optimized in the same way as it would with upgraded equipment.
Older Isn't Always Better
It is common to see automation equipment that is over 40 years old still being used in production. The saying, "If it's not broke, don't fix it." comes to mind. It seems like common sense that if the equipment still works then it does not need to be updated. But this isn't always the case.
Let's compare this situation to a car. A 40 year old car can still be driven and get you from point A to point B. It is considered an antique and many people would be proud to say they own that car and it is still in working condition. However, a new car provides benefits like automatic controls, advanced safety features, more miles per gallon, and gives the driver all information they could need while driving. Plus, repairs are not as expensive with new cars because the parts are still being manufactured.
Value of Upgraded Equipment
The benefits of updating your automation equipment is similar to the car analogy. Technological advances are being made all the time to cut energy costs, improve safety, and be as efficient as possible. With new equipment comes the benefit of integrated safety procedures built into the design of the machine. Facilities can cut energy costs by using smarter PLCs and more efficient drive and power systems. Organizations can cut the cost of energy and operating costs by using smaller motors and smart drives to do the same amount of work. Most importantly, performance and equipment effectiveness is improved with new equipment because it is now designed with better key performance indicators (KPIs). This technology is used to give both operators and managers real time information they need to make wise decisions about production. This results in not only improved efficiency but increased profitability.
It can be hard for a factory to change their ways when it comes to their equipment and production, especially after using the same equipment for an extensive period of time. It is important to look at the value of upgrading and taking advantage of all the features included in current advanced technology. If the advanced technology in the upgraded equipment is used to its full potential, the benefits such as increased production efficiency, increased profitability, and cutting in energy and operation costs will easily be worth the investment.
Talk to a PanelShop.com Expert about upgrading your equipment!
You may also be interested in reading: