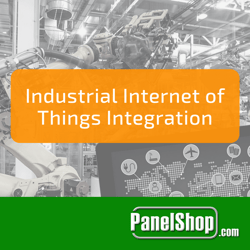 Manufacturers and machine builders are facing an ever-increasing demand for digitized solutions as more and more corporations adopt digital workflows to achieve higher efficiencies and production numbers. The Industrial Internet of Things serves as the perfect answer to all these problems and is capable of providing companies with increased speed, flexible operations, and safe environments. OEMs and design engineers face the real challenge because they now have to overcome technological barriers and come up with an integrated solution packing the best of each technology.
Flexible Machines
One of the key elements of digital transformation is the automation components that provide function without requiring reprogramming. It is a crucial prerequisite in order to properly utilize IIoT's benefits, as greater flexibility would lead to agility on the manufacturer's part.
The incorporation of modular components within a solution and the inclusion of subsystems can lead to reusability and enhanced efficiency. It also frees up engineers of time-consuming maintenance activities. All these are first steps towards next-generation plug-and-produce systems where production can be altered through quick reconfiguration of interconnected elements.

Turning Data into Intelligence
Intelligence relies heavily on data, and as OEMs tap into streams of data, the problem of how to manage it surfaces. Data that is collected and analyzed in the right way on a continuous basis ensures that the predictive model provides accurate insights. And while there are several solutions in the market that can collect and accumulate data on the cloud, OEMs are often left with the complex task of programming interfaces to ensure peak utilization.
For instance, if one or more data points are showing variation then a possible problem could arise. In these instances, the OEM needs to work closely with the automation solution supplier to ensure all necessary traps are set and preemptive warnings are issued.
When machine builders work in conjunction with automation solution suppliers to streamline data collection, prior knowledge of IT isn't mandatory. Data from a machine is transferred through encrypted channels to data centers where OEMs can study the desired data points to infer whether a component needs repairing. Such predictive services can ensure maximum uptime and thus boost the efficiency of operations.
The Industrial Internet of Things isn't just a concept. It has entered mainstream industrial sectors in a measurable form. Machine builders are embracing the innovations IIoT brings, but it will take time and strong partnerships for the concept to gain more ground and become a standard operating procedure.
Contact PanelShop.com today for a quote on your panel design and building needs!
You May Also Be Interested In Reading