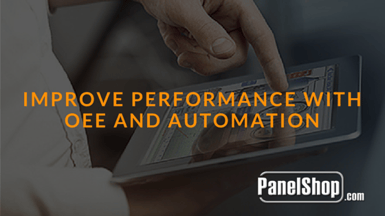 Every company seems to want to improve their business with Lean Manufacturing ideology. The idea of reducing unnecessary waste, improving efficiency and quality is the pathway to succeeding in a highly competitive industry. The best way to evaluate a factory's performance is by measuring the Overall Equipment Effectiveness (OEE). Although you can calculate OEE by hand it requires a lot of work from each team member. Calculating OEE manually can take weeks to analyze, distracts operators from working so they can record information, and can be affected by human error. However, automated solutions make it possible for OEE data to be collected instantly and accurately.
The Lean KPI
OEE collects real-time data from equipment during production and evaluates how efficient the production is operating. In Lean Manufacturing, OEE is the most commonly used Key Performance Indicator (KPI), which collects data over time and points out areas that may need improvement. By using OEE, you can measure equipment downtime, how fast a machine can perform, and the quality of the items produced.
Prepare for OEE Measurement
It is important that every piece of equipment in the production system being measured is on the same schedule. This means that there is a standardized time that all machines start operating, have downtime, have maintenance completed, and so forth. If everything is synchronized then the OEE calculations can begin at a set time, collecting real-time data of each part of production. When problem areas are detected, it will be easy to see what was happening during production at that exact moment without outside factors weighing in.
What to do with the data?
The data that is being collected should be monitored by senior managers and operators. By using HMIs or other overhead displays, the data is presented in a way that can be easily interpreted. An example of this would be a color coding system that indicates the flow of production. Green would mean that equipment was performing smoothly. Yellow would mean that equipment is idle due to factors such as waiting for input from another machine. Red would mean that the machine has stopped and would indicate a reason or delay code.
By keeping records of data it will be easy to compare performance based on different days, operators, or environmental conditions. Realistic goals can be made and met with the information provided by the collected OEE data. In time the effects of automated OEE will be apparent through improved production practices, efficiency, and quality control.
Start measuring your OEE with ScorBox Automated Solutions.
You may also be interested in reading: