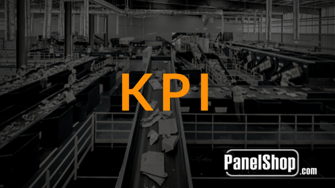 When making improvements to a system, you have to look at historical data to identify where the weak spots are. You can't make anything more efficient or improve quality if you don't know what needs the most attention. It's a simple and obvious concept, but it brings about the question of where to get the information to best read the current system. Patterns over time can point to particular areas that could stand to be changed, but more current information can illuminate more specific details. This is where Key Performance Indicators come in. Key Performance Indicators, or KPIs, are an essential part of any production system.
KPIs are measurements in countless applications from education systems to politics to retail, but looking specifically at the automated manufacturing industry, they can accomplish a number of tasks. One of the most commonly used KPI in the manufacturing industry is Overall Equipment Effectiveness (OEE), a measurement factor used by production managers to evaluate a process. Calculating can be done manually or through automated OEE data collection.
Improve Efficiency
Firstly, they can help to improve efficiency. They can point to the parts of the system that are creating waste. From there, resources can be pulled to those specific areas to eliminate the waste that is found. By using OEE, you can measure equipment downtime, how fast a machine can perform, and the quality of the items produced.
Meet Goals
Secondly, KPIs can direct a plant towards overarching goals. Goals can only be met when there are indicators of progress. KPIs can provide those progress reports. With numerical results of an implemented plan, improvements can easily be tracked.
This is helpful to the company as a whole, and all the way down to individual operators. Two different categories of measurement ensure this:
Result Indicators
The first categories, result indicators, tend toward the big picture. There are two measures within the result indicators: result indicators and key result indicators. They measure overall results of production, but these measures come from a combination of other measures. From the result indicators, a company can watch progress towards a goal in a simplified manner.
Performance Indicators
The second category, performance indicators, shows measures for individual teams and parts of the total production. Again, the category is divided into two sub-measures: performance indicators and key performance indicators. These measures show operators where they are improving by measuring data from their own areas within the plant. This doesn't give a picture of how the company is improving as a whole, but it does find the points where improvements could be made to later influence the result indicator measures.
There are unlimited types of KPIs that can be monitored. Depending on the company, plants might want to keep track of products fully completed within a time frame or the energy use per product, just as a few examples. But the specific KPIs used in a system are entirely dependent upon a specific company. However, there are seven characteristics of all effective KPIs.
Measures should:
Not be financially based
Be gathered very frequently
Be monitored by CEOs and senior managers along with operators
Clearly communicate when actions need to be taken
Be connected to specific teams or aspects of production (for performance indicators)
Have an impact on the operation of the company
Encourage actions to be taken
With effective KPIs, companies can make large-scale goals manageable. Efficiency and energy use, production practices, and quality control can all be improved with the implementation of KPIs throughout systems.
---
You may also be interested in reading: