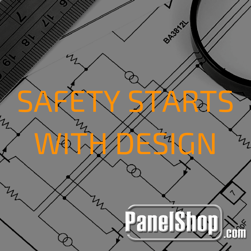 Safety is important, paramount even! In everyday life people value safety. The workplace is certainly no exception. For engineers operating potentially dangerous machinery on a daily basis, the emphasis on ensuring safety becomes even stronger. Often rules and regulations for operating hazardous machinery are instituted at workplaces or even by the government or governmental organizations. While these precautions do help keep machine operators stay safe, one of the most effective ways to help ensure safety is to design and build machinery with safety in mind.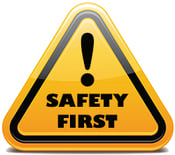 In the design phase, floor space requirements can be determined. To make this determination, factors such as machine size and operating room should be considered. In establishing the floor space required, this will also be a safety measure as the operator will have adequate room to control the machine.
Another factor in establishing safety is the Americans with Disabilities Act (ADA). This act establishes equality for disabled Americans. In doing so, it requires that machines are also safe for people with disabilities, requiring more measures to be taken during the design phase to manufacture safe machines for everyone.
Integrating Safety into Design
When integrating safety into design, it is crucial to be aware of what the machine will be used for. For example, knowing how many parts a machine makes per hour, the complexity of the machine's loading and unloading process, and how materials and products enter and exit the machine is a crucial part in having the ability to design safe machinery. This information will allow machines to be manufactured to have emergency features situated at strategic locations on the machines and will allow the actual machines to be built in a way to favor safety.
Safety Switches
It is common for design engineers to receive safety assessment training to foresee risk and design for the specific uses of each machine. One consideration might be how often the machine will be used and who will be operating the machine in order to design the safest, most cost-effective machine. These considerations are especially important to make when incorporating safety switches into the design of machines. For instance, if a machine is to be used only once a year, it is most profitable and safest to use simple guards, like encasing the entire area. However, if a machine is used and accessed more frequently, then it must be easier to use but remain safe. In this case, the interlocking safety switch is used. More specifically, the tongue interlocking switch is low-cost and effective at keeping the operator safe.
You may also be interested in reading: