Electrical equipment manufacturing has become an ever-expanding global market. There are various standards that exist worldwide to define the type and use of enclosures for electrical equipment. It is necessary to understand the distinction between NEMA and IP ratings to ensure proper installation of equipment based on environment and locations.
The NEMA (National Electrical Manufacturers Association) and IP (Ingress Protection) rating systems are used to describe the degree of protection provide against intrusion (body parts such as hands and fingers), dust/dirt, accidental contact, and ingress of water. The NEMA rating system also makes a distinction between hazardous and non-hazardous environments.
The NEMA rating system (NEMA Standard 250) is primarily used in the United States, whereas the IP rating system (IEC Standard 60529) is used throughout the rest of the world.
Unlike temperature conversion between Celsius and Fahrenheit, there is no direct formula or calculation to convert NEMA to IP rating codes. The IP rating system only covers protection against the ingress of water and solid objects, whereas the NEMA Rating system also includes corrosion resistance and use in atmospheres containing explosive agents.
Care must be taken in selecting the correct enclosure rating and type to meet the required protection of electrical equipment in the environment in which each enclosure will be installed.
IP Rating Table
IP x x
1st Numeral Protection against Solids
2nd Numeral Protection against Liquids
Example: IP65 = Dust Tight, Water Jets

1
NEMA Rating Table for Non-Hazardous Locations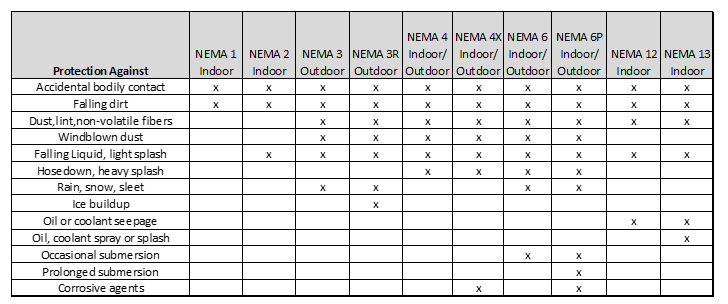 2
Comparison of IEC and NEMA Enclosure Ratings
The table below is provided for general reference only and should not be used for the conversion of NEMA ratings or IP codes. Ratings are not directly equivalent between the (2) standards but the following table outlines the NEMA ratings that would correspond to the performance required by the IP code. NEMA ratings also require additional product features and tests (icing conditions, hazardous locations, knock-out for cable entry) not addressed by IEC60529 IP ratings.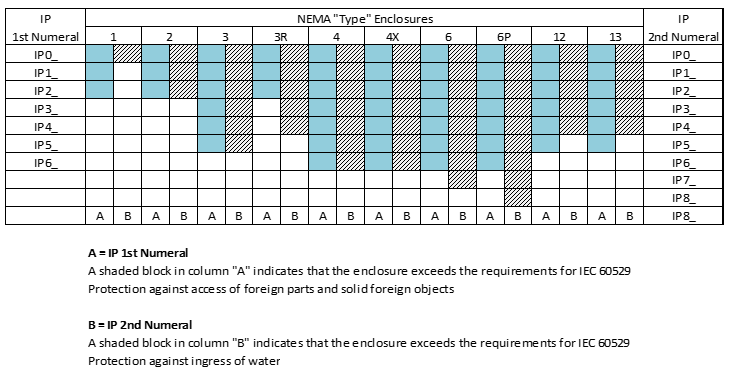 3
Conclusion
Electrical equipment manufacturing will only become more of a global industry in the future. Reviewing the differences between NEMA and IP ratings now can save time and costly errors later. At PanelShop.com, we understand the careful foresight and planning that goes into your manufacturing decisions.
You May Also Be Interested In Reading