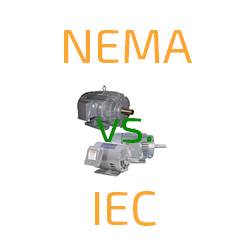 When choosing a motor control, there are two sets of standards to consider: NEMA and IEC. For a number of reasons, NEMA products are more common in the US while IEC are more common in Europe. Their focuses on different aspects of the products make them better suited for different audiences.
NEMA Controls
NEMA controls are much more "general purpose". This means that it is easier to choose the appropriate size. The only varying factors are horsepower and voltage. The all-encompassing approach makes each size more versatile when it comes to the other aspects of the application. In general, using a NEMA product is more simplistic. From selection to maintenance, the process is easier. Sizes are standardized across different manufacturers and they are typically sold pre-assembled. Additionally, internal parts are easy to access, making them easier to replace and fix rather than remove the entire device from the panel. Another attractive characteristic of NEMA products are the thermal units. They are interchangeable so there are a variety of options available.
IEC Options
IEC options, on the other hand, are more sophisticated. More specifics need to be known before choosing the right size ranking. Different products are best suited for different HPs and voltage, along with variations in motor load, full load, duty cycle, etc. Selections are more tailored to individual needs. One major goal of NEMA standards is to make selecting the right product an easy choice, but IEC focuses on achieving the best performance for different jobs. Also making things more complicated is the fact that size ratings are not totally consistent from one manufacturer to another. It does take more knowledge to choose the correct IEC starter, but they are often around half the size and considerably cheaper than a comparable NEMA. Once the starter is chosen, it will take some assembly, but parts click into place easily. Unlike NEMA, units are more replaceable than fixable. However, replacements are easy; the old one can click off of the panel and a new one can be clicked on in a matter of minutes.
Like most things in the US, NEMA is created for ease and reliability. This tends to come in the form of all-purpose products. In contrast, IEC can focus on the goal of making products the best they can be for each specific circumstance.
You may also be interested in reading: