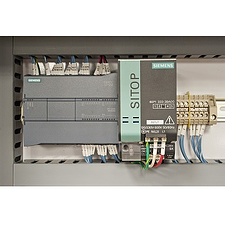 Programmable Logic Controllers (PLCs) may not have been the best automation solutions when they were first introduced, but with astronomical technological advancements over the last few decades they have surpassed the more traditional hard wiring. PLCs bring numerous advantages in simplicity, accuracy, and cost.
Installation
The installation itself is a big argument in favor of PLCs. Wiring takes many man hours and leaves a lot of room for error. It is a laborious process to install all of the relays, timers, and counters that are already built into PLCs systems. The most difficult part of using a PLC is initially the programming. However, once programs are in place it's more or less a matter of hooking it up to inputs and outputs. Plus, the programs can be used on other PLCs, greatly speeding up the process down the line.
Once the system requires updates or maintenance, hard wiring and PLCs continue the same pattern. PLCs have the advantage of troubleshooting to look for bugs while finding the issue in a wired system is much more complex. Fixing the problem or upgrading the wired system brings the same issues: disconnecting, human error, rearranging, and reconnecting. Upgrading a PLC usually simply requires some software updating.
Cost and Size
Cost and size are another concern. With many major functions built into one unit, PLC systems take up considerably less space. They tend to be cheaper in the long run as well. Once a system gets larger than a handful of relays, a PLC is a more cost effective option. General up-keep and improvements take less time and effort and parts need to be replaced less frequently in PLCs.
When it comes down to it, the most important factor in deciding what kind of system to use is the quality of the performance of each system. Once again PLCs pull ahead. Coordinating processes is much more accurate, especially because hardwired systems don't have any communications to speak of. Data collection is also more accurate and better response times mean that it is faster as well. Tasks in control applications - like continually repeated, high-speed, and event driven actions – are especially suited for PLCs over hard wiring.
You may also be interested in reading: