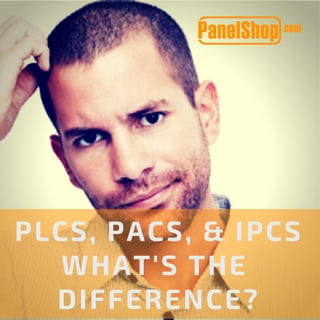 Until the late 1960s, large relays were the best option for controlling automation machines. They were expensive, difficult to work with, and horrible for troubleshooting. Then came along a new technology that could fix all of that, programmable logic controllers (PLCs). This allowed manufacturers to easily program controllers that were much smaller and cheaper than the old, clunky relays. The rise of programmable logic controllers (PLCs) led to the creation of other controllers such as programmable automation controllers (PACs) and industrial PCs (IPCs).
Each of these different controllers are used today for certain tasks. There are many factors to deciding what controller to use on a project.
PLCs
PLCs have come a long way since they were introduced in the 1960s and 1970s. Like all technology, they have become smaller, faster, and cheaper. These controllers are commonly used on small equipment such as fillers and packers. They can process inputs and outputs at high speeds. Because PLCs are simple computers, they can come with a variety of additions including human machine interface (HMI) packages that are useful for visualization and alerts. Other modules available for PLCs include motion control, network interface, among other options. Yet another advantage to PLCs is the availability for PLC-to-PLC interaction through networks and ethernet. As great as this may seem, PLCs still have limitations to speed and power due to their small size, but don't worry, there's plenty more solutions!
PACs
When a project calls for a more powerful controller than a PLC, a good solution is a PAC. PACs have the same capabilities as the above-mentioned PLC, but are made for larger distributed control and have more I/O capabilities. These can be used in large packaging lines, discrete control systems, or plant processes. Some manufacturers create specific, powerful instruction sets for jobs in gas, nuclear, and more. Most PACs are compatible with USB programming and can communicate with databases and SQL. When the project is large and the budget is too, a PAC is the better choice over PLC.
IPCs
PCs were brought into manufacturing in the 1990s where manufacturers wanted to simulate PLC processes on the operating systems. As the trend became more popular, programmers started to create programs to override the OS priorities, which allowed them to let the PC directly control the automation project. Because these are modern PCs, they're easy to use and have the processor and memory of modern computers. The HMI can also be displayed on the same computer that runs the automation process to save cost.


Which should I get?
If you need a controller for a relatively small machine, then a PLC may be a good idea. When you have a much larger project, one with a lot of I/O over a large space, then you may consider a PAC. For a project with a focus on HMI, an IPC may be worth a look. It's difficult to give an easy answer as there are many producers for controllers and each one has benefits and consequences. The best process for finding a good controller is to compare a few side-by-side and weigh the pros and cons. Here at PanelShop.com, we deal a lot in controllers for automation processes. For any questions, don't hesitate to contact us.
To discover what improvements your company can make to become more efficient talk to a specialist at PanelShop.com today.
Or call us today and we'll quote you within 48 hours:
You May Also Be Interested In Reading