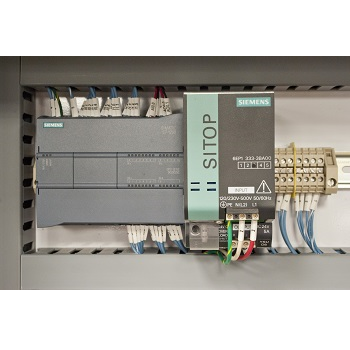 Programmable Logic Controllers (PLCs) are a great way to make a system faster and easier to handle, but there are many considerations when choosing the right PLC for a system. There are many components that go into a PLC and most can be specified to best benefit your application and environment.
Consideration One
Determine how many I/O's (inputs and outputs) the PLC needs to connect with. Since PLCs can control large portions of a process, they need to be able to accommodate multiple I/O's and different kinds of I/O's. Knowing how many you will need and the kind of I/O's will lead to determining the proper chassis size and allow you to use your PLC to its full potential. The location of the PLC also affects the I/O's. If you need to have remote I/O's opposed to local I/O's, that will need to be determined and planned from the get-go.
Consideration Two
Next is the CPU (central processing unit). With multiple I/O's and types of data collection, you need to make sure that the CPU in the PLC is fast enough, and has enough processing power to handle the various tasks and programs that may be running on the PLC. Memory is also another factor. You'll need more or less memory based on instructions and programs that need to run, set points and internal flags, and how much historical data you need.
Consideration Three
You also need to consider what communication protocols are going to be utilized. What other networks or devices does the PLC need to be able to communicate with and how do they communicate? Some PLCs have communication ports, but modules may need to be added. It is possible to communicate remotely, through Ethernet, or add multiple kinds of communications. It is important that the PLC can work with the rest of the system and be adaptable in order to accommodate changes made to the system.
Such possible changes should be a part of the decision making process from the beginning. Once you have a PLC, you want it to be able to use it for its entire lifespan. This can only happen if you think about the system as a whole. If updates are made to other parts of the system, they need to be able to work with the PLC. This means that communications have to be possible, I/O modules have to be compatible, and there has to be room for both. A more flexible PLC keeps your options open. Choosing a PLC with the future of the process in mind will save money and avoid complications in the long run.