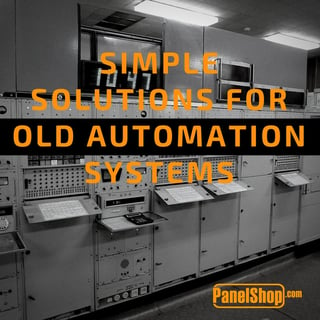 When working in the field of manufacturing there will come a point when your shiny new automation system slows down, breaks down, and is on its way to becoming completely obsolete. It's a sad truth, but there are a few ways to go about upgrading your system to run even better than when they were originally installed.
Options
When it comes to automation system upgrades there are three choices you have to decide between; some of which may or may not work for your unique situation.
Rip and replace the entire existing system

Retrofit old system with new components

Keep old system running as long as possible
Therefore, when choosing what path to follow it is important to consider:
Cost

Down time

Life span of the new system
Why Retrofit?
In a majority of situations retrofitting is the best option for a low cost and timely automation replacement solution. By using the retrofit method the parts causing the most issues will be replaced and the control systems processes will be streamlined. For instance, in some situations the base machine is running flawlessly, although the control system's hardware/software needs an upgrade. Simple upgrades to a control system can be effective for years to come and will save a considerable amount of money compared to a full system upgrade.
Older systems tend to have operating system problems, this can be a major contributing factor to system failures. Specifically, the support for Windows XP ending in 2014 caused most older operating system failures. Also, as companies begin to phase out older hardware it becomes increasingly harder to find and replace faulty parts. Again, by upgrading parts of the system you gain the ability to easily replace PLC's as they fail rather than replacing the entire control system. All aspects of retrofitting an older automation system stands to increase profit and avoid costly maintenance time.
Maintain & Keep Running
When running an old system it can be a challenge to fix broken machinery but it is not impossible. For instance, if the parts you're searching for have been phased by the manufacturer it is sometimes possible to find spare parts on the internet (eBay, Google Shopping, ext.). The process of finding and replacing the part can save money in some situations, but at some point it will not become cost effective to keep fixing dated machinery. Therefore, this strategy can work when times are tight but is not recommended for a long term solution.
Total Replacement
While replacing the whole control system can be expensive and create some down time, it is by far the best long term solution. Migrating from obsolete systems to current platforms increases flexibility, helps you meet operational compliance regulations, and improve your plant's overall performance. A project of this magnitude requires hours and hours of preparation, planning, and execution. If you are considering upgrading your plant's control system I would recommend contacting a control automation professional to help decide what path is right for you and to help consider what options will be the most cost effective.
You May Also Be Interested In Reading