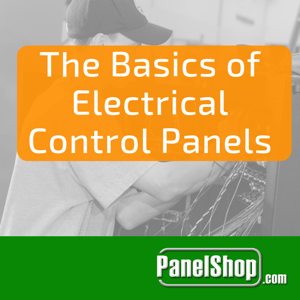 Electrical Control Panels provide a reliable and effective way to control mechanical equipment within the plant floor. Today, almost every piece of circuitry is controlled by these panels, therefore proper design is vital for productivity, and long-term return on investment.
How are control panels described?
There are several ways to describe control panels, depending on their operations. The following are some of the most common attributes of a control panel:
Safety Ratings, i.e. 3rd party (cULus) or short circuit current rating.

Enclosure Ratings, i.e. NEMA, with respect to material, mounting and door mechanism.

Power Ratings, i.e. incoming or outgoing power, e.g. 480V 3 Phase

Control Power, i.e. 120VAC or 24VDC

Door Mounted Operator Devices

Sequence of Operation, i.e. supply fan, recirculation pumps, chemical pumps
Power Components
Several components are used within control panels to regulate the flow of power to the physical equipment.
This is an electrical power switch that can turn itself on or off depending on the current/voltage conditions. For instance, inrush current caused by short circuit conditions would result in the CB disrupting the flow of electricity to protect the reset of the circuit.
This is a simple security component that serves to protect the equipment in case of dangerous electrical conditions, e.g. flow of current greater than the rated values. The metal wire within a fuse blows up, disrupting the flow of electricity. Once the fuse blows, it has to be replaced to resume operations.
This is a combination of devices which include contactors, circuit breakers, overload relays, etc. and is used to control a motor. Soft starters have been introduced to simplify operations which can ramp the voltage up/down more smoothly, and eliminate the possibility of electrical surges or mechanical shocks.
This is an advanced solid state power controller that is used to control the speed of a motor by altering the voltage. These are quite expensive, but provide greater control, safety and reliability.
Control Components
The operating sequence of physical equipment can also be controlled from within the control panel through the use of control components. These include:
A relay is a simple logical device whose coil can be energized/de-energized through the passage of a small electric current. These are then used to power on/off larger loads such as contactors, actuators, etc.
These relays have inbuilt timers to add delay within the control of a device as soon as the coils are energized. One particular type of timing relay is the Repeat Cycle one whose contacts can change states repeatedly at a set frequency when the coil is energized.
PLCs are the most sophisticated form of control devices used within a plant and have features that allow them to be programmed and take over complete assembly lines. Their price range varies from $100 to several thousand dollars. Modern PLCs come with inbuilt communication features that provide them greater visibility and allow them to be a part of a SCADA system.
Other devices that can be made a part of electrical control panels include digital meters for monitoring electricity consumption, operator interfaces (touchscreens), and pilot devices such as indicators and pushbuttons.
You May Also Be Interested In Reading