Manufacturing industries are always keen on controlling one of the biggest expenses associated with their businesses. Production managers are always under pressure to make sure that their space is managed in the most effective manner possible, and not even an inch of space gets wasted.
In addition to the primary equipment required for an industry to operate, control panels have slowly but surely gained ground as a vital part of any industry. Control engineers today are faced by the challenge of designing control panels that carry a smaller footprint, allowing them to fit more pieces of equipment in a more confined space.
There are a number of factors that require serious consideration before the existing control panel design can be altered such as cable segregation, cable entry, thermal management and electromagnetic interference. Moreover, safety considerations such as Arc Flashes and Fault Analysis must also be taken into consideration.
The Hoffman-Panduit Partnership has given way to control panels that are truly space saving, while at the same time easily deployable.
PanelMax
For starters, the space between the enclosure door & the components mounted to the sub-panel is the most under-utilized space in a control panel. Panduit DIN Rail Wiring Duct features two separate wiring channels that allow the user to mount all components to the rail that would normally be installed on the sub-panel. It has been found that the Panduit PanelMax DIN Rail can save up to 40% of sub-panel space, allowing it to be used for other purposes.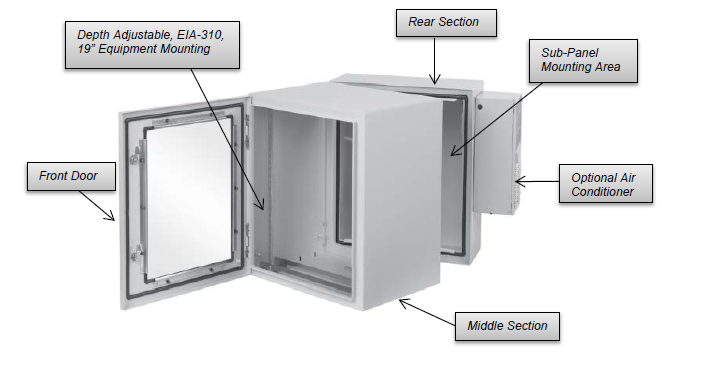 PROTEK
Next, the highly space-savvy PROTEK panel by Pentair helps in the utilization of all existing space with its three-piece, double-hinge design, allowing the front door to open on hinges connected to the middle. The front door as well as the middle section are completely removable to allow maximum customization. The PROTEK design allows the Control Panel Engineer to make use of the sub-panel space in the rear, as well as combine the rack mount equipment to form a new 3D-spaced system.
FUSION
In order to maximize space savings, a control engineer should select an appropriate control enclosure based on the target application. Various enclosure platforms offer greater flexibility and greater space savings, given their target application, for which they are designed. Pentair however tackles this issue of selectivity by offering greater flexibility allowing control engineers to add components belonging to a wide range.
Pentair's FUSION product line is the perfect example of an enclosure system that instills flexibility. It is designed to accept front & rear vertical mounting rails in addition to a rear sub-panel. Moreover, the unit can be compartmentalized by adding barriers so that high voltage/low voltage systems may be isolated.
All such options allow the designer to save 20% of the wall space compared to control panels with limited customizability.
PROLINE
This is yet another modular enclosure system, but for large control system applications. Built on a strong, versatile base on top of a grid pattern, the control enclosure allows a wide range of accessories to be added to the frame. Multi-bay configurations allow for system expansion while a complete range of associated internal components like rack angles & sub-panels allow the equipment to be installed more securely. A few examples of mounting options include operator interface, computer systems and industrial control equipment in addition to the typical equipment.
Overall, it is important to test the resistance of your insulation on motors in order to save money on maintenance and replacing motors. To get help and see how you can implement more testing techniques talk to one of our professionals at http://panelshop.com.
You May Also Be Interested In Reading