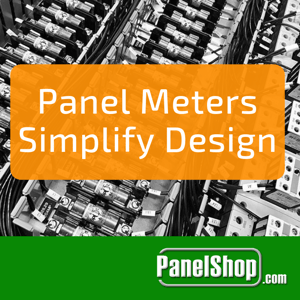 Panel Meters can be utilized by machine and robot builder OEMs to bring in cost-effectiveness for three major aspects of the business, i.e. operator interface, closed-loop control and stand-alone monitoring and control for the entire machine.
In terms of cost and simplicity, a Panel Meter will easily beat any LCD-based HMI when it comes to operator interface. PLCs and HMIs have obvious benefits but quite often they are not fit for the application as they require trained personnel to provide technical support. This increases the cost as well as the risk of downtime. In comparison, a panel meter can act as the best operator interface alternative, as modern variants feature inbuilt communication options allowing digital networking to be utilized.
For instance, Precision Digital offers a Provu Meter that has dual-displays, LEDs indicating vital information as well as panel function keys, all protected through three-tier passwords. In addition to offering operator interface capability, meters are also capable of performing real-time control as they may have programmable relays and I/Os that are similar in operation to a programmable relay.
Let's take the example of a conveyor motor safety-control circuit that uses a meter for monitoring of motor-winding temperature and a second one to monitor motor current. A PLC provides control for the conveyor's speed. The temperature motor can be coupled with a variable-speed motor blower that can be activated directly by the panel-meter's output whenever the temperature crosses a certain threshold. The second meter can be configured to receive its input from a current transmitter, allowing it to be used as a locked rotor alarm, controlling the same Power Relay Coil as the first meter. By employing digital filter settings, false-positives can also be eliminated, and the application made reliable as well as cost-savvy.
It can be seen that a Panel Meter can be used as a monitoring and control device, greatly reducing the cost-overhead and limiting the need for expertise that are generally required to manage redundant resources. This makes a strong case for machine builders to consider Panel Meters, for simple control applications if not for more complex & sensitive ones such as those in the petrochemical and nuclear industry.
You May Also Be Interested In Reading