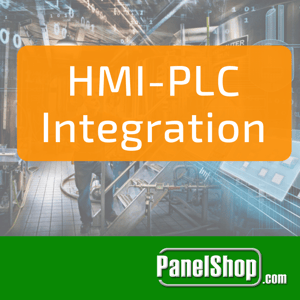 So, you've been assigned with the task of finding a comprehensive conference calling solution for your office. You contact various vendors and at the end of the day have various options to choose from. Some of them involve buying individual components such as camera, microphone, etc. and integrating them on your own, while the other allows you to buy an all-in-one solution where you can forget about incompatibilities of the devices. Which one do you choose?
Surely, each option has its own pros and cons. Individual components may come at a cheaper price and allow for future upgradation while an integrated solution may reduce the complexity.
In a similar manner, if you're working on an application that requires the use of PLC and HMI, you would be facing a similar stack of options. Conventionally, the controller and interface have been separate entities, but as the years have gone by and Moore's law has been in full swing, increased processing power and decreased costs have allowed integrated PLC/HMI solutions to be more feasible.
Such integrated units are usually made up of the following elements:
Advocates of an integrated PLC/HMI solution argue that such solutions are convenient and allow implementations to take place within shorter time frames, utilizing minimal space. The software used is also simpler and doesn't need separate programming for the HMI and PLC. This flattens the learning curve for the operators and engineers who are expected to maintain the system.
But what's the downside?
First and foremost, you'll have a limited selection when going for an integrated solution. This will limit your ability to customize the product, isolating the functionalities of the system. You'll find difficulty utilizing advanced features that are tailored for the specific application you're working on, since, vendors often build a one-size-fits-all solution.
For instance, some applications require a smaller HMI with lower processing power since the SCADA system would be doing all the heavy lifting. In such cases, a higher cost is incurred for no reason. In addition, there has been an ongoing argument against delegating PLCs for tasks such as making calls to a database, deviating it from its true purpose which is to ensure effective, time-sensitive control.
Nonetheless, integrated solutions have received praise from several corners, notably industries that have discrete applications in process environments. An integrated solution also offers cost-cutting by neutralizing the labor costs related to mounting large number of components within a system. A single system can be installed much more quickly compared to a larger one that requires frequent extensions.
The industrial engineering giant Siemens has found it easier to integrate PLCs and IO, minus the HMI. The company does however see growing opportunities for integration of HMIs with PC-based controllers. An increasing number of OEMs are demanding HMIs that can be laid on top of controllers, reviving the PC-based control era of the 90s, which at that time was simply too immature to prosper.
You May Also Be Interested In Reading