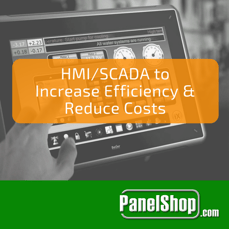 A glance at the screen should be enough to provide your operators with enough information to carry out a targeted industrial operation. All the potential problems should be clearly indicated and any risks or faults should be highlighted as a top priority. A well-built HMI/SCADA system should be able to accomplish these tasks, and many more, including:
Leveraging your HMI/SCADA as the base of all operations
Driving the right & most efficient response in the face of alarms
Instill consistency and conformity to standards
Provide quick, on-demand support
Today, SCADA systems aren't installed for providing monitoring & visualization of a certain process, with alarms rolling in. A well-built SCADA system should serve as a decision support system, enabling personnel to quickly manage resources and rectify faults.
SCADA wasn't always the first preference for industries. The first generation SCADA systems called "Monolithic" had little to offer and had little to no connectivity. Next, "Distributed" SCADA systems came along, which had LAN-networking and task-dedicated stations. Soon, "Networked" SCADA systems became a norm and very few process-control systems were controlled through manual operators.
Today, the fourth generation of SCADA systems have arrived, powered by "Internet of Things". Industrial internet drives these systems, making use of real-time data and complex algorithms to offer the best course of action as well as predict maintenance checks beforehand.
Identification of Problems & Root Causes
Earlier generation HMI/SCADA systems offered object libraries and color palettes when it came to designing. Those concepts are still important today, however well-designed visualization has gained great importance. Modern HMIs deliver streamlined user interfaces, and reduce reaction times in the face of emergencies.
These HMI/SCADA systems have situational awareness that allow them to identify and process mission-critical information. Alarm management systems are well-integrated into the UIs, allowing human operators to intervene before the damage can spread to the entire system.
Real-time Support
Real-time intelligence forms a pillar of modern HMI/SCADA systems. Human operators often spent most of their time working on redundant tasks. Today, these tasks are taken up by the SCADA system, popping up timely reports & alarms, only when the need arises.
Furthermore, real-time HMIs are developed with intelligent modules that offer the best course of action in the face of an error, providing a detailed breakdown of the chosen decision.
Self-Learning
Any Internet of Things based solution would be useless if it were to ignore the decisions made by expert human operators.
An HMI should be able to:
Ensure the right actions, instantly
Increase consistency
Capture best practices
Compare the consequences of manual operator-based decisions
Enforce decisions based on integration of human & computer algorithms
The use of operational analytics within HMI/SCADA systems only improves the decision-making capability as it would allow the use of all available data for the betterment of industrial assets. Finally, modern systems are designed to prevent failures rather than fix them. Such results can only be obtained through simulations, which once again would only be possible in a well-networked fourth generation system, rather than a primitive, bogged-down one.
As a result, the plant or establishment would benefit in the following ways:
Increased safety for equipment & personnel
Greater continuity in operations
Reduced maintenance costs
Streamlined operations & decision making resulting in increased efficiency of the entire system
Interested in learning more? Contact an expert, or visit our website: PanelShop.com.
You May Also Be Interested In Reading