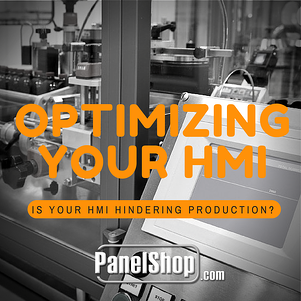 Human Machine Interfaces (HMIs) can be very valuable tools when used properly. Real-time data gives machine operators the information they need on the floor to keep everything running efficiently and safely. However, a problem arises when an HMI starts to hinder production and operations instead of assisting it.
To begin with, an HMI can provide too much information.
That may seem like an odd statement, but let's dig deeper. In order to get the most out of your HMI, it should only present what is needed at that time. Today's HMI's have incredible capabilities in how they collect, calculate, and display data. Just because it can update all sorts of data doesn't mean that it should. If a screen is cluttered and overly intricate, operators have a difficult time differentiating between the things that are fine the way they are and the things that require attention and adjustments. Certain data may be of no value to the operator, but be crucial to management. To fix this problem, be sure to limit what your HMI is reporting back at the operator level. Data logging can tell the whole story, which management will care more about, where only very specific real-time data at the machine or panel level will appeal to the operator.
Secondly, HMIs can overuse alarms and notifications.
One of the main goals of an HMI is to help keep operators safe. When too many alarms go off, it is hard to tell which ones need immediate attention and which are simply fluctuations in the system. Additionally, when an alarm or notification is heard or seen too frequently, they can often be taken less seriously, or even ignored depending on the event triggering it. Keeping notifications to a limited number can better utilize HMIs safety features.
Aesthetics are also something to think about.
The way HMIs display can make a huge difference. Going back to the alarm systems, bright colors are effectively used against more bland backgrounds. When things stand out at a glance, it's much more useful than blurring everything together with a mess of colors and graphics. That's not to say that graphics aren't helpful though. If the organization of information on a graph or chart can display information without needing too much analysis, graphics can be very valuable in presenting trends.
In general, HMIs are optimized when certain things are emphasized rather than letting everything jumble together. Something as simple as enlarging or highlighting the most important aspects of a set of data can make a huge difference. Response time can be minimized and better decisions can be made when an operator on the floor can easily interpret what they are seeing.
Compare this to your car.
It has windows that go up and down, an engine that has a top speed, seats that move back and forth, up and down, wipers that wipe, brakes that stop abruptly, a radio that can blast out sound. If you were to enable all of those functions to the maximum of their ability, driving your car might be dangerous and the driver would be reckless. Operating only certain features and not pushing everything to the max capability is how a driver stays safe. The same idea applies to keeping a machine operator, and the equipment being run safe while using an HMI.
Always think of how you want to segment your data. There is a specific set of data that needs to be displayed to the operator to allow them to perform their job effectively and efficiently, as well as another set of data that production supervisors and managers alike will find valuable while studying production metrics and making managerial decisions.
You May Also Be Intestested In Reading