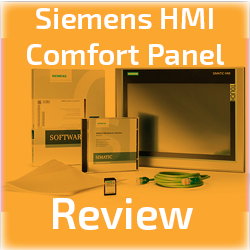 This week we are conducting a product review for the Siemens Comfort Panel series of HMI screens. These screens are awesome and should be replacing a lot of the competitor's offerings in the future. The price is right, the programming is easy, yet it is full of features, the built-in drivers are numerous. Being a widely recognized brand name like Siemens means the product will be supported for a significant period of time. A partial list of the third party drivers is Allen-Bradley, Modicon, Mitsubishi and Omron. If your controller of choice is not available, OPC UA is also available. The screen is available in 4.4 to 22 inch versions. Below are some of the features that caught our attention.
Hardware
The system is built on a Microsoft Windows compact platform and includes an Excel, Word and PDF viewer pre-installed. There is a built in sound card and USB ports. On some systems I have used a USB keyboard to supplement the touch screen keyboard when a lot of entry was needed to set up a system. I have tried a few different models of keyboards and mice and all that I have used have been compatible. The touch screen is very responsive and the colors are bright. There is a built-in two port switch so that the HMI can be daisy-chained inside the panel. There is also a profibus port for an alternate connection means.
Software
The software used to program this HMI is the Siemens TIA Portal, which is the Siemens Totally Integrated Automation suite. This software integrates the PLC's, drive and HMI so that the tags created on the connected devices are immediately available for HMI use. Drag and drop functionality is available between devices so tag referencing is very easy. The objects all have events attached and can actually be programmed to perform many events. For example, clicking a button can open a file chooser dialog then open the selected file and display in a viewer. This same action could set a bit or clear a bit and so forth. The objects also have animation properties that are very simple to use and most can have multiple animations.
Cool Features
There are some really cool features on this display. When I work with other manufacturers offerings, I am always missing them and wishing they were present to make my project easier. Here are a few worth mentioning:
Text Lists
One of them is the text lists. A drop down can be created with multiple options that represent a numeric value. When one is chosen, the associated tag is updated in the PLC. This allows a lot of functionality to be located on a single screen. These text lists can also be dynamic where each of the items can have names that change based on tag values so text lists can be used inside of other text lists.
Built in E-Mail
The HMI also has built-in e-mail that can be used to send reports and logs. There is data logging which can be sent to a user-supplied USB thumb drive so storage is very cheap. The data logging can be in CSV format or in a more compact proprietary file type. The trending options are very good with built-in zoom and pan functions that are easy to use with just the touch screen.
The displays are easy to change to different models even after the screens are designed. Most functions will directly convert between different size screens and even to the PC run-time version of the software.
Communications Directly
A feature that was available on older Siemens HMI's that is now back is communications directly from the HMI to some of their drive offerings (i.e., the S120 series of drives). Many of their drives have very powerful programming blocks and/or the DCC (Drive Control Chart) language available so many projects can be written without a PLC and run directly inside the drive. The HMI's can talk directly to drive parameters and variables making there no need for a PLC in smaller systems.
OPC UA
OPC UA is available on this HMI both as a client and as a server. OPC is the standard for communications between control systems and computer operating systems. This allows the HMI to be the collection point for a plant monitoring system. For example, if a plant has many different isolated machines but they all have Comfort panels installed on them, an OPC UA compatible system can pull data plant wide from the machines through the tags that the HMI is collecting.
Conclusion
This is a very powerful HMI device and is my preference even when using controllers other than Siemens. Many OEM's use a name brand, high-end PLC but then choose a no-name, cheap HMI to save on the overall costs with their equipment. I think this HMI will soon become the HMI of choice for these OEM's due to the price, feature set, compatibility with other brands, and of course, the Siemens name on it.
---
If you have any questions or comments regarding this post or would like to discuss a project or system with myself or another member of our engineering team then feel free to contact me at bbregar@panelshop.com or call us at (855) PNL-SHOP.
You May Also Be Intestested In Reading