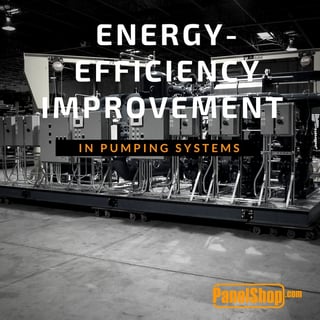 In order to stay ahead in industry and to keep a company profitable, it is important to stay up to date with technology. Using the most efficient systems and products in manufacturing can help your company save money and save energy, which helps to not pollute the earth. There are several opportunities to make your pumping systems more efficient, including maintenance, monitoring, controls, reduction of demands, and proper pump sizing.
Maintenance
Maintenance is a very important aspect of improving pumping systems. If not up kept, maintenance can lower the efficiency of the pump systems which makes the pump's lifespan shorter. Improvement in this area will help immensely in saving your company energy. Some key points to focus on when it comes to maintenance are:
Inspection/Replacement of packaging and mechanical seals

Avoid throttling losses

Bearing inspection/repair

Replacement of worn impellers

Pump/motor alignment check
There is no doubting that with proper maintenance, your company can conserve total energy and therefore save money in the long run.
Monitoring
Monitoring is important because it can be used to find problems and can help with figuring out how to solve them so that you are left with a more efficient system. A few red flags that can be seen from monitoring would be blockage, impeller damage, clogged pipes, etc. The ways to analyze these problems would fall under one of these categories of monitoring:
Current/power

Vibration analysis

Pressure and flow

Temperature rise
Monitoring is seen in cooperation with maintenance to be the best way to detect such problems and solve them to save money for your company.
Controls
When looking at controls, the main focus is to reduce the load of the individual pumps. Remote controls make it possible for the system to turn on and off with ease. They also allow the reducing of the load to take place with reduced labor compared to the old fashioned control systems. Controls contain a strategy that is precise, but also has the ability to save money for your company.
Reduction of Demands
Holding tanks play a key role in the reduction of demand. They can equalize the flow over the production cycle. This can help with energy efficiency and doing away with the addition of pump capacity. Total head requirements can be minimized by lowering the elevation ride from suction to discharge tanks, lowering static pressure, and reducing static elevation change. Energy can be conserved even further if your holding tanks are implemented properly.
Proper Pump Sizing
Your pump may not be the right size, and there are good reasons to find the proper size. Some signs that your pump is inappropriately sized are if it has a high bypass flow rate, the flow rate varies more than 30% from its best efficiency flow rate, or it operates under throttled conditions. The load of the motor is what has a direct impact on the energy conservation. In the scenario where the pumps are oversized, speed can be reduced with gear belt drives or a slower speed motor.
Energy efficiency is important to all in the industry and has the ability to save money for the future. There are many aspects that have an effect on the energy consumption, so it is a good idea to take a look at all of them. It may seem as something that should be known by all companies, but it's worth taking caution and making sure your equipment and monitoring is up to date in order to save money.
Things to Consider
Some key aspects to focus on when trying to improve your pumping system include:
Rethinking pump selection and methods for equipment to try and find the most efficient process

Check if stepping of pump sizes for systems that require variable flow rates can lower energy consumption

See what systems can be set up to lower energy consumption alongside improving individual pumps
To discover what improvements your company can make to become more efficient talk to a specialist at PanelShop.com today.
Or call us today and we'll quote you within 48 hours:
You May Also Be Interested In Reading