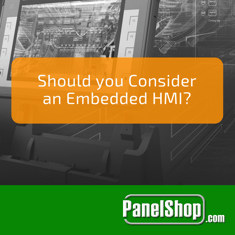 HMIs serve as gateways to multitude of hardware & software ranging from servers to I/O devices to controllers, etc. Since the dawn of industrial robotics, OEMs have been using embedded controls in their machines. Today, these embedded controls have transformed into embedded HMIs, platforms that contain a display along with an embedded OS (Windows, Linux, etc.), as well as a programming software to allow users to customize the robot's functionalities according to their needs.
But embedded HMIs aren't the only type of HMIs available. A fair competitor comes in the form of PC-based HMIs. These require OEMs to buy the software & hardware separately and carry out development before bundling it with their machine.
So, should an industry choose an embedded HMI over a PC-based one? The answer's usually not simple to such questions, so let's dive a little deeper.
Simplicity
For all intents & purposes, graphics terminals can carry out basic machine tasks that involve few inputs & outputs. However, the system starts to lag once more advanced & automated equipment is brought in, failing to keep up with the interface, connectivity and data handling requirements.
On the other hand, PC-based HMI platforms are top of the line, both in terms of performance as well as price. When the user goes with this option, he/she has to purchase a computer system and off-the-shelf HMI software. Next, an HMI program has to be developed using languages such as Visual Basic, C#, etc. At the end, a fully-featured, customizable and scalable HMI is produced, but at a great cost.
Compatibility & Reliability
Usually when an HMI program is written, the hardware for which it is developed is extremely specific. Personal Computers usually have a short lifespan, of a few years, after which newer hardware takes over. The PC-based HMIs perform greatly until this time comes, when even a slight failure results in a huge problem, which is either rectified through purchase of hardware at higher costs or through rewriting the program. Either way, the process is a lengthy one.
Such problems are seldom faced by graphics terminal HMIs as they are usually programed with little room for error or upgrades. They work in well chalked-out ways and even though they aren't effected by software vulnerabilities, hardware upgradation is still an issue.
The Solution
In between these two ends of the spectrum lies embedded Human Machine Interface. These HMIs provide a wide range of flexibility, capabilities and connectivity that can bridge the gap between feature-rich PC-based HMIs and highly reliable Graphics terminals. Embedded HMIs allow software to be designed for a wide array of equipment, with hosting features such as thin-client server, data base access, and a variety of I/O drivers. In addition, third party support is included to keep the door open for further development.
Several cases allow a machine developer to work with an embedded HMI of a PC-based HMI, bringing in substantial savings in term of costs. For instance, a vision-guided robotic system makes use of, a PLC, a robot controller and a camera controller. Data exchange takes place among the HMI and the controllers through floating points while a set number of parameters are required at any time. Such requirements are static, and for such a system an embedded HMI is a much better option than a PC-based one.
Note that this doesn't mean that embedded HMIs don't pack any flexibility or scalability of their own. Modern embedded HMIs are gaining advanced capabilities that allow them to stay in line with IoT based technologies. Some of these capabilities include support of HTML5 browsers and rich-graphics, both of which are prime reasons for use of PC-based HMIs.
Nonetheless, much work needs to be done, and advanced systems that require greater processing & network capabilities are still dealt with PC-based HMIs.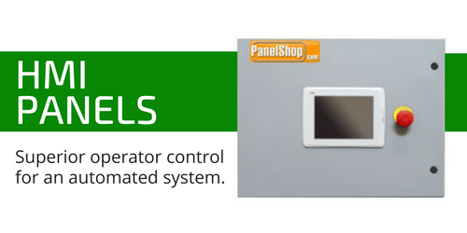 Creating Your Custom HMI Panels
If you need affordable HMI panels for your next project, our experienced staff can help you from concept to completion. PanelShop.com takes the pain out of control panel building by making the process streamlined and simple. Trust our engineers and electricians to help you achieve custom HMI panels for your next project.
You May Also Be Interested In Reading