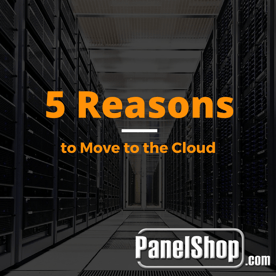 More often than not, systems are switching to Cloud storage and computing. Manufacturers are hesitant about moving production-related software to the cloud with worries such as security of information in off-site hosting. However, research has proven that manufacturers have little to worry about because Cloud hosted data can be more secure than on-site data storage. Most research points to the benefits that will help expand business for manufacturers. Manufacturers should take these 5 reasons into consideration when deciding to switch a system to the Cloud.
1. Reduce Costs
The total cost of a cloud based ERP system can be 50% - 60% less than traditional software implementations over a 10 year period. This is because a cloud based system requires less resources, less testing, and less development. In addition, cloud vendors often provide application support and maintenance. When housing traditional system applications, organizations have to pay for previously stated items as well as hire people for consulting and support.
Using a cloud system is cost efficient because there is no ongoing maintenance, upgrades, power bills, cooling costs, and administrative costs recurring year after year. The cloud vendor will keep the system up-to-date, provide all required maintenance, and be able to keep up with your growing business.
2. Adaptability
In traditional application implementations, many things can slow down the process such as upgrading infrastructure. With the cloud, there is no need for upgrading infrastructure or investing capital associated with upgrading. In the manufacturing industry, there are many reasons why applications would need to change structure, expand, or increase operations. Traditional on-premises applications can take anywhere from 12-36 months to be fully implemented. Cloud applications can quickly adapt to any challenge, such as fast growing competition, and be fully implemented in as little as 4-8 months.
3. Fast Growth
When trying to grow a business, you may want to build presence in new or multiple locations. Accessing the cloud from new locations is easy, less expensive, and less time consuming than onsite applications. Using the cloud for these types of endeavors is smart because the cloud is less of an investment if the business venture goes south. However, if the business is successful, the cloud is perfect for expanding to meet the new needs of the organization.
4. Improve Efficiency
A cloud application can also improve efficiency. The cloud has the ability to replace or automate tasks in the production process. This can make the production process more proficient and also mitigate the chance for human error. A cloud application can also provide real-time information, and connect people from different parts of the supply chain or production process, decreasing the time it takes to communicate within traditional applications.
5. Improve Visibility
Like most automated processes, the cloud will allow insight into what is happening on the production floor. Organizations will be able to discover problem areas within the production process, monitor constrained resources, and overall manage equipment, materials, and employees in the most effective way possible. The cloud gives real time visibility of every piece of the production process, allowing the most effective and efficient decisions to be made in real time. With this type of visibility, smaller issues can be addressed before they become much larger and more difficult issues to confront.
You may also be interested in reading: