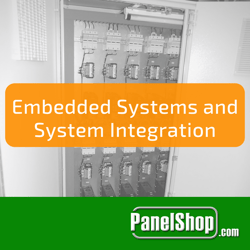 An embedded system consists of a wide spectrum of definitions. It is widely understood as an engineering term that varies by application, usage, and context. These systems are likely to contain elements of communications, hardware, software, and control loops such as closed-loop or open-loop modes.
Today's modern embedded systems are highly sophisticated and provide a range of networking capabilities allowing them to communicate with local or cloud-based components and systems.
Types of Embedded Systems
There are plenty of examples of such embedded systems; in fact, the industrial world is full of these systems and rely on them for many different operations.
Value Chain:

these embedded systems operate in and around various plants and can be connected to a software system within a supply chain.

Facility:

various departments within a plant can have embedded systems, in operations such as integration, and integration of various departments such as engineering design and procurement.

Plant Floor:

several parts of a plant floor such as logistics, engineering, and controls can all be embedded, and so can the communications and power systems driving these parts.

Automation and controls: within automation and control, embedded systems are found in control systems across in the plant, such as fire and life safety, air handling units, and HVAC.
Machine Level:

embedded systems in machines can operate as programmable automation controllers (PACs), PLCs, or industrial PCs. In addition, embedded systems for machines can be found in networks, actuators, sensors, and other RTUs.

Chip Level:

the availability of micromechanical systems has brought embedded systems all the way to the silicon level. Chips serve as the logical hub of all operations of a machine, and advancements in processing technology have allowed gears, valves, and actuators to be part of a single chip. Application specific integrated circuit (ASIC) or field programmable gate array (FPGA) are two prime examples of how embedded memory and instructions can be used to make logic permanent.
Integration of Embedded Systems
Many of these embedded systems also fall under system integration. But what is system integration? System integration is, quite simply, the combination of systems to build a larger system or set of systems. Following a bottom to top approach, one can build an understanding of how chip-level embedded systems can make up board-level embedded systems, which could then form device-level systems, and so on. Essentially, each of these is an example of integrated embedded systems to create the next level of embedded systems above it. Thus, the term system integration.
The concept of system integration has been gaining unprecedented importance because the needs for interoperability and open yet secure embedded system data exchange has gained momentum. Whether the integration is horizontally or vertically, integrated embedded systems are an important piece in interoperable controls and data security on the plant floor.
You May Also Be Interested In Reading