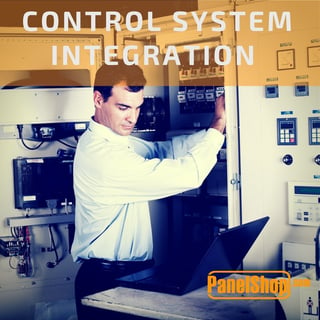 Control system integration is key to improving industries and automation. Automation has been increasing the use of more machines to complete tasks alongside of workers, which improves efficiency and quality of production. However, these machines are dangerous and it is vital to have a control system in place to turn off and control the machines. In the past, these control panels were separate for each machine, but newer technology is moving towards integrated larger control systems so more machines can be shut down or controlled from a central location.

Software
Control systems and monitoring systems are becoming more seamlessly integrated between machines and to a central interface. This improvement allows more data tracking to be monitored for one, but can also improve safety. If machines can connect with each other and to a main control center/panel through integrated software, workers can have more control and understanding of how machines are functioning. This allows them to stop the machines in case of emergency and find failures before they require full shut down for machines.
Databases
All of the information that comes through the software and the data tracking devices needs to be stored and/or monitored somewhere. A central database is essential to efficiently running all of these machines because in order for all the data to be useful it needs to be processed. These databases ensure higher quality and better production. Machines can be monitored for errors and failures while databases accumulate information over time.
Operator interface
Machines have built in software that allows users to have access through for example, a mobile app, to the control the functions and operations of the equipment. This can be a very useful tool for the reason that you can have control over your machines from anywhere in the facility with just a tap of a screen. The interface is very user friendly yet very technically sound.
Alarm management
Alarms can become quite useful when there is an emergency, and it is necessary to move people out of a facility to evade any injuries to employees. Employees should feel safe with an alarm system in the workplace due to the simple fact that the alarms are executing a very important task: alerting them of dangers. These crucial warning alarms can provide the workers notice to shut down machines.

Integrating control systems is essential in keeping up with industry technology, improving safety, and producing with better quality. To find out how your company can integrate more control panels today check out our website at panelshop.com.
You May Also Be Interested In Reading