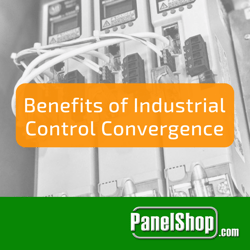 The word "convergence" started gaining a foothold in the industrial world over the start of the 21st century when several trends shifted, with time-tested technologies such as PLCs taking over the new process automation markets and newer concepts such as PC-based controls taking over discrete automation. There was a time when the industrial world used to operate in black and white, and every system integrator and manufacturer knew the specific technology for a particular application.
Today, however, the situation is much more grey. The debate over PLCs vs. PC-based controls goes on, hot and heavy, and reflects how much the world of industrial control is prone to change. All this is actively promoting the concept of "convergence" of technologies, making room for cutting-edge concepts of IoT and Industry 4.0.
Control Layers
The control layers are being affected by convergence in the following major ways:
Fusion of the physical and the digital world

Convergence of manufacturing, automation technology, and IT

Convergence between industrial control hardware and devices
All of the above convergence trends are impacting the industrial control market in one way or the other. If we look at the past decade, it can be inferred that convergence has taken place at the hardware level, which is the very basic layer of technology. But today, convergence is being driven at an exponential rate, largely by controller vendors who are looking for a larger share of the market, attainable only through enhancement of the features and functionality. A better way to understand this is with the mobile phone analogy.
When the cell phone was invented, its sole purpose was to make and receive phone calls, and for a long time, it stayed this way. However, after years of research and development, engineers gradually built its features, and eventually turned it into a device "that could also make a phone call". Similarly, in the world of industrial control hardware, software and networking capacities are gradually improving.
Industrial Software and Network Convergence
Control hardware is and will remain the primary driver for sales revenues, however the role of software in manufacturing can no longer be sidelined. The software portfolio has come a long way, and holds the potential to take over tasks such as planning, engineering, and management of the production lifecycle. Software development would gain significant consolidation with the convergence of industrial control hardware and software.
Enhancements in software capabilities can improve integration between various elements of manufacturing, improve the functionality of control systems, and make processes more data-driven than hardware-driven. In fact, none of the recent trends in IoT, Industry 4.0, or Smart factory would have thrived or existed without advancements in industrial networks.
Industrial networking has played a huge role in allowing controllers to expand their features. While controllers have primarily been used to automate process lines and control machinery, as their traditional capabilities get converged with networking ones, they are becoming more intelligent. The nature of the controllers is also converting themselves from physical hardware to data and software. The integration of intelligent devices combined with their ability to communicate with higher level management systems allows receptive processes to develop.
It should be noted that the independent nature of industrial controllers is being removed by convergence. The selling points of certain industrial controllers will shift from their conventional performance parameters, and the range of features will become diverse rather than specialized. And it won't matter whether the controller is a PC, a PLC, or a DCS. All would become driven by software and communication capabilities rather than hardware capabilities.
This means that the lines between different controllers will get increasingly blurred, and the competition will extend to the software arena and be no longer limited by product type. This means more players would emerge, with some specifically offering software-based solutions that would enhance a PLC's capability, with others offering networking services for DCSs. But at the end of the day, technology will still benefit, and the industrial world will make strides towards the practical implementation of IoT and Industry 4.0, technologies that have been around the corner for too long.

Start a conversation with PanelShop.com experts today for a quote on your panel design and building needs!
You May Also Be Interested In Reading