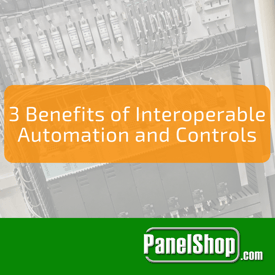 Interoperability is an important yet tricky function in industrial plants. The term interoperable refers to a product's ability to work alongside and communicate with products from other manufacturers. It's a basic standardization of machines in the industry. But it isn't an easy thing to guarantee.
Most standards for automation and controls today are vertical. Each standard matches with a specific function or machine and, typically, only that function or machine. So there are few to no general standards across different controls and functions in industry. Many manufacturers also use different methods and technologies in their products, some of which can be incompatible. This is why standards for interoperability are necessary for future products and controls.
Why Interoperable
Despite the challenges, interoperability is still a very useful function for future machines to have. There are also a number of reasons for incorporating interoperable automation and controls in a plant. The ones listed here are three of the biggest benefits that interoperable automation and controls offer.
1. Lower operational cost
Interoperability allows systems to be optimized for different functions, which means less time and manpower needs to be spent on transferring data between machines. Interoperability also means managers and operators aren't constrained to a specific manufacturer, and can purchase products from less expensive sources.
2. Easier data transfer and sharing
When using controls and products from different manufacturers, data extraction and transfer between them can be difficult. Interoperability means that data doesn't need to be moved around manually between independent products. This allows the data to be shared more easily and more efficiently between machines.
3. Flexibility
The biggest benefit to implementing interoperability is the flexibility it gives operators and managers. Interoperability allows for hardware and software to be used interchangeably as long as they support each other. It also allows for transportability if a facility moves location or needs to be adjusted or remodeled. Operators and managers are no longer tied to one specific manufacturer for their plant equipment, which can also save money in the long run.
Interoperability can be tricky to get right. When it's done right however, it can be a valuable tool on the plant floor. From money saving to ease of use for data to general flexibility around a plant, interoperability offers many benefits to operators and plant managers. Despite the challenges, such as lack of standardization, interoperability is a valuable and important feature for the future of industrial automation and controls.
Contact PanelShop.com today for a quote on your panel design and building needs!
You May Also Be Interested In Reading