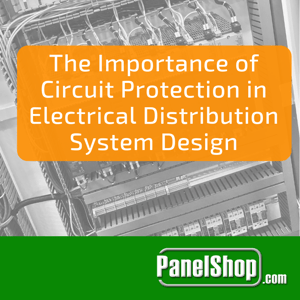 Electrical Engineers who are in charge of designing power distribution systems carry a huge responsibility since their work determines the operational efficiency, productivity and safety of homes, offices and commercial centers. Designs need to be fool-proof, providing protection against faults and overloads, while at the same time ensuring safety for the users.

There are no clear steps to make such a design; all that is provided are a set of guidelines in the form of regulations and codes that must be considered by the engineer in question.
Circuit Protection is a hot topic within articles issued by the National Electric Code (NEC), following the basic goals of:
Localizing and isolation the fault
Preventing unnecessary power loss
Overloads, short circuits, under/overvoltages, etc. are just some of the conditions that may occur within a building's operational life. Isolating or rectifying these faults is necessary, otherwise they can have damaging effects on the building as well as the grid system.
Overcurrent Protection
Service entrance equipment acts as the first line of defense against thermal overloads and faults. Overcurrent Protection Devices or OCPDs include circuit breakers, relays and fuses, forming the basic blocks of power system protection. These devices are incorporated within the protection system to break, isolate or disconnect the circuit when an overload or short circuit condition occurs. Modern overcurrent protection devices possess communication and control strategies that can provide an in-depth analysis based on the nature of the fault as well as collect vital parameters such as power factor, harmonics, etc.
The most basic OCPDs are fuses that contain a thin strand of wire with an Ampere rating higher than the maximum rated current. Since overcurrent conditions increase the magnitude by several folds the rated current, the fuse blows out during faulty conditions. The operation is quick and reliable however, it is irreversible, meaning the fuse would have to be replaced manually to restore operation.
For reversible operation, thermal magnetic circuit breakers with long-time trip operation can be used. As soon as the current exceeds the rated threshold, the circuit breakers isolate the locality. After a delayed period of time, they close again and bring continuity to operations. It is assumed that the fault would be cleared by the time they reclose. If fault is not cleared, they would isolate the locality again, following this procedure a set number of times before permanently opening, requiring manual reset.
Modern circuit breakers and magnetic closers can be supplemented by digital control through relays that can be operated through PLCs, microcontrollers, etc. This gives rise to the concept of building automation as control devices can be operated through accurate data obtained from sensors rather than their inherent capabilities. Such systems are usually implemented in large-scale buildings since they require extra investment and having additional running costs.
Ground-fault Protection
Arcing type ground faults require an extra layer of protection as they are difficult to detect due to lower magnitude. There are two basic types of ground-fault protection:
Ground-fault protection of equipment – intended to provide protection of equipment from damaging line-to-ground fault currents through disconnection.
Ground-fault circuit interrupters – for personnel protection, sensing faults that are lower than 5mA
Grounding is very much important in the context of power system protection. The concept simply means the intentional connection of a current-carrying conductor to ground, which limits the voltage caused by lighting or when two conductors come in contact and stabilizes the voltage by allowing a path for harmonics to flow into. NEC recommends the formation of several grounding points throughout a building to ensure redundancy within the protection scheme.
Apart from grounding and overcurrent protection, other equipment may also be incorporated within the system such as arc-fault circuit interrupter, mechanical protection for feeders or branch circuits for emergency power circuits in hospitals.
You May Also Be Interested In Reading