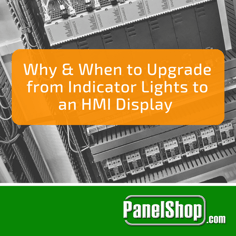 Human Machine Interfaces (HMIs) is a graphical based visualization of an industrial control system, which in the old days was accomplished through lighting panels or an array of LEDs. Several businesses have started migrating towards HMIs in order to facilitate the workforce and provide more accurate & timely readings, however some choose to stay with the age-old solution of indicator lights, and for good reason.
So, what exactly is the criteria for making the shift, and how can one ease into the decision?
The Basics
Charts and diagrams are often required for carrying out component level fault diagnostics on industrial equipment. While standard push buttons & indicator lights are good at providing basic monitoring & control capabilities, they can in no way be used for more complex functions. HMIs are a necessity, and can greatly accelerate the process of analyzing and carrying out fault recoveries.
The HMIs also become more economical whenever the system requires 5+ motions or 10+ outputs along with a number of inputs.
Functionality
The basic placement & functionality of your equipment greatly effects the level of control required, and thus the choice of monitoring system. If the equipment is being used as the primary point of the line then an HMI is definitely more effective. Having an HMI in such a situation would not only serve as a connection point to your equipment but also to other systems such as OPC UA, Modbus, ODBC, etc.
The ability to connect HMIs to networks is a major motivator for system integrators to shift from traditional push-button solutions. The data monitored through HMIs can be stored in a cloud-based database, providing access to users in a location-independent manner. Similarly, the control can also be accessed remotely, and tied up to a computer program, bringing in automation capabilities as well.
The features described above aren't available in a system packing indicator lights & push-buttons, however at times these aren't required for the equipment to function. There would be no point in installing an HMI for a system that would undergo minimal changes during its life. An isolated equipment that doesn't influence major processes doesn't need an HMI, as it would simply add to costs that can be spent elsewhere.
Changing Trends
If it isn't broken, don't fix it. Many decision makers are still using this statement as a base for their operations, without realizing what they're missing on.
The world of automation is changing dynamically, and more end-users are getting into the habit of interacting with a single screen that contains all the information & tools rather than a cluster of hardware. Shifting to an HMI based solution would not only make your machine more user-friendly, but it would trigger faster responses from the new generation of workers.
Furthermore, having such a solution would allow more businesses to retain their competitiveness by opening-up to their clients. How? By using access control methods such as usernames & passwords, businesses can limit the level of interaction of each tier of clients & workers, making their operations more transparent and interactive. This technique can be especially useful if the HMI is networked, allowing the corporate divisions to make more accurate decisions without actually visiting the field.
Looking at the Bigger Picture
The initial investment cost plays a big role in convincing consumers as to which way they should go. However, when it comes to making big decisions that have long-term effect, a new factor comes in, called the total cost of ownership.
A more passive solution such as LEDs & push-buttons does a have a lower cost due to the simplistic skillset and lower investment involved. However, when looked beyond the initial sunk cost, HMIs can bring in a great many number of benefits that can't be reaped by traditional solutions.
Remote monitoring, historical logging and better interaction can bring in long-term benefits that can pay-off in the form of greater productivity from the workers' end. This can generate extra revenue, effectively providing a hedge against the hefty initial cost.
Interested in learning more? Contact an expert, or visit our website: PanelShop.com.
You May Also Be Interested In Reading