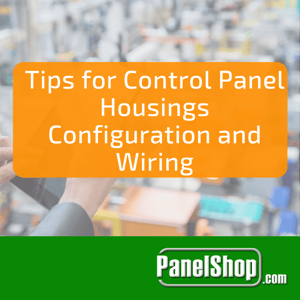 Engineers and technicians can face a lot of difficulty when configuring and wiring their control panel housings, even when following the instructions that come bundled with them. Usually, panels have to house an ever-increasing array of devices, giving wiggle room to uncertainties such as expansion space (I/O). So how can one leave minimal space in the panel while accommodating future requirements in the best manner possible, that too without going through the trouble of overheating?
Start off with the process that's being controlled. By doing so, one can get a much more precise idea as to how much room would be required in the future. If the process has no room for expansion, then you probably don't need any extra space in the cabinet. However, if the engineer is unsure then a good rule of thumb would be to start from 20%.
There should be room near the power distribution sections for at least an additional power supply and 20% more control fuses or circuit breakers.

Certain wire ducts should have about 25% extra capacity which can later on be used for expansion without taking a toll on the budget.

Cooling should be designed with 20% - 30% extra capacity, some of which may be affected due to the dirty filters at the base design level if due attention is not provided.

To the interior left and right walls of the enclosure, try to add side panels. If you can do so during the design process, then you can easily manage significant upgrades. This would surely make the enclosure deeper, but this shouldn't be a hassle if corrected during the design process. Plus, you can add HMIs or push-buttons with the extra-depth if ever required.
With all this being said, the question of budget is also very important. The panel builder shouldn't be too stringent with the dimensions, neither should he/she be too generous. Once again, knowing the process would bring great ease and peace of mind for the system integrator and the manufacturer.
PanelShop.com takes pride in delivering high quality custom control panels with concept-to-completion engineering support. Whether you know exactly what you need or you're seeking a partner to help develop and accelerate your project, PanelShop.com can help. Call us today or submit a quote, and find out how PanelShop.com offers the best price for the best quality
You May Also Be Interested In Reading