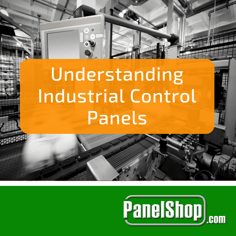 Understanding the applications and practical limitations of industrial control panels is essential to guarantee proper usage as per the situation and requirements. According to the NEC (National Electrical Code) section 409.2, industrial control panels are defined as an assembly of two or more power circuit components or any combination of power and control circuit components. Industrial panels are factory-wired assemblies of control equipment like switches, motor controllers, relays, etc. However, it must be noted that UL listed industrial panels do not include any externally connected load.
Industrial control panels that fall under UL NITW product category are intended for use in applications where control of heaters, motors, lighting or pumps is required. Furthermore, industrial panels may also be designated specific equipment for control such as cranes, refrigeration units, etc. as well as other industrial panels.
A few examples of categories that are placed as under applications are:
Access control systems

Motor control centers

HVAC systems

Packaged pumping systems

Factory automation equipment
Enclosed Industrial Control Panels
An enclosed industrial control panel is made up of the:
Enclosure

All components within the enclosure

All components mounted to the walls of the enclosure
The construction of the entire has to be investigated, for its ability to function properly within a specific range of voltage, current and overloading conditions. However, it must be noted that the concerned authority doesn't need to investigate the panel's ability to control equipment, rather the panel's components must all be qualified by a laboratory such as UL. The concerned authority only needs to make sure that the equipment is not damaged, and marked for sufficient load and application.

Open Industrial Control Panels
An open industrial control panel includes:
Internal wiring

Field wiring terminals

Components mounted on a subpanel
This enclosure is intended to be supplied as part of the installation and unlike enclosed panels, additional factors need to be approved before installation:
Follow the instructions published by the manufacturer

Verify the mechanical strength and durability of the required enclosure

Ensure that the enclosure does not encroach in the wire-bending and conductor termination space

Any factor that can affect the practical safeguarding of persons who are likely to come into contact with the enclosure
Industrial Control Panel Enclosures
These control panels are only investigated to verify their compliance with the construction requirements as per UL508A. For all electrical components installed within the enclosure, the concerned authority will have to carry out determinations on its own.
For instance, several times, the concerned authority will encounter a UL listed panel containing a variety of components like relays, contactors and terminal bars. Since the overall assembly hasn't been investigated by UL, the concerned authority would have to treat the assembly as unlisted equipment, and apply all applicable NEC regulations to the panel.
For compliance with NEC regulations, the concerned authority would have to review section 409.110, to ensure proper markings, schematic, design and fabrication of the control panel.
You May Also Be Interested In Reading