With 2016 right around the corner, are you ready for the new standards of panel building?
The UL 60947-4 series may not have a catchy name, but it's been in the works for at least 10 years. For decades, panel builders have struggled to navigate the waters of international standards that never quite matched up. Checking industrial control panels against four or five different standards was often tedious and frustrating, stacking up labor time on projects to make sure each panel was up to code.
UL 60947-4-1 will greatly simplify the testing process by harmonizing standards from trusted industry leaders like UL, the Canadian Standards Association (CSA), and the International Electrotechnical Commission (IEC). Creating UL 60947-4 took those ten years because the committee behind it combed through every word of the protocols across these organizations, identifying and resolving the minor differences.
To make sure you or your panel supplier is ready for the New Year, take a look at the phase-out deadlines:
By January 2012, industrial control panels were already being evaluated with UL 60947-4, but could still be evaluated using UL 508.

Until January 2017, new panels MUST be evaluated by UL 60947-4, but UL 508 can be used for revisions upon request.

After January 2017, all panels must fulfill UL 60947-4 standards.
And here's a quick breakdown of the standards impacted by the phase-out: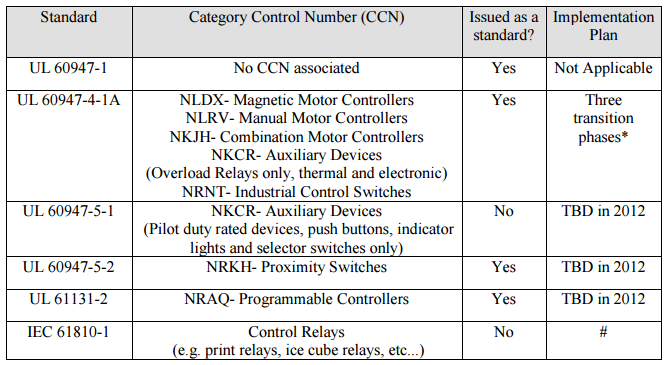 Visit the FAQ at UL.com to learn more about the details.
PanelShop.com carries certification in all five major standards for industrial control panels, and stays up-to-date on new measures like UL 60947-4-1. Contact us for a free quote on custom control panels and we can offer engineering services for your control panel design.
You may also be interested in reading: