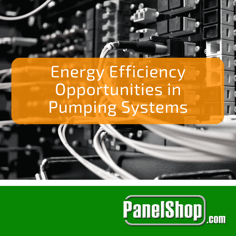 Pumping systems are widely used in a number of industries from mining to petroleum to manufacturing. These systems account for nearly 20% of the world's energy used by electric motors! A minute dip in their efficiency can put great financial strain on the entire system and risk the machines' life. The American Society of Mechanical Engineers (ASME) has published a comprehensive list of standards that can help assess the efficiency of pumping systems.
Maintenance
Most pumping systems require flow control that make use of components such as throttling, bypass lines, pump speed adjustments and valves. Inadequate maintenance of these components can greatly bring down their efficiency, as well as impact their usable life.
Here's how you can make sure the system stays in tip-top position:
Replace worn impellers, lubrication and mechanical seals

Inspect bearings and repair them

Check pump/motor for alignment

Avoid throttling issues
The payback of such small maintenance is usually within a year, and can save 2-7% of pumping electricity in the long-run.
Monitoring & Control
In conjunction with maintenance, monitoring should be an integral part of the routine operations. Detecting problems beforehand and studying their trends over a long-period can help predict the next breakdown. This would allow steps to be taken beforehand, instead of suffering from a break in operations.
The pumping systems should be integrated within the industry's SCADA systems and offer the following functionalities:
Wear monitoring

Vibration analysis

Power monitoring

Pressure and flow analysis

Distribution systems parameters
Similarly, the control should also be organized in a proper manner. Either a proper cabinet should be maintained that offers streamlined electrical controls, or a front-end HMI should be used controlling all switchgears through a PLC/PAC.
Proper Pumps
A pump's efficiency degrades from 10–25% during its lifetime. Some people argue that the efficiency is bound to decrease with time, however industry experts have pointed out that the degrading performance is greatly affected by mismatch between the pump's capacity and its operation.
Several pumps are available nowadays with specific pressure head and flow rate capacity. Choosing the right pump would allow a cut-back in operation costs as well as greater efficiency in the long run.
Pump sizing is yet another issue that needs to be tackled. If a pump is operated under throttled conditions, it may be incorrectly sized. Same goes for flow rate. If the flow rate varies more than 30% from its peak efficiency point, there is a capacity mismatch. Whenever pumps are oversized, the speed can be reduced with a slower speed motor or a gear, however this results in frequent breakdowns that require maintenance. Correcting pump size can save 15-25% electricity consumption, and should therefore be carried out with great care.
In addition, multiple pumps should be utilized for varying loads. This may sound like a capital-intensive activity, but is more cost-effective and energy efficient.
Adjustable Speed Drives
Energy use for pumps is directly related to the cube of the flow rate. ASDs or Adjustable Speed Drives can help industries match their load requirements accurately, resulting in greater efficiency. Installation of ASDs can greatly improve the productivity and reduce wear and tear. The payback occurs in a much shorter period as future maintenance costs are eliminated.
Unless the pump curves are flat, 10% regulation of flow rate through ASDs would account for 20% savings with respect to pumps.
Interested in learning more about energy and cost savings?

You May Also Be Interested In Reading