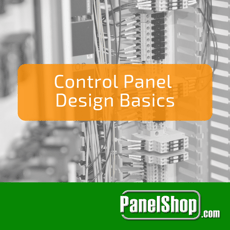 Electric Control Panel design is not just about selecting the dimensions of the cabinet, the rating of the enclosure and the IP protection it should offer. It's actually about creating a design that would ensure comprehensive yet simple control of your plant/machine/process. Planning is the key to proper control panel design, as preemptive rectification of errors is easier than rewiring an established unit. No matter how complex the control requirements are, it's better to think of the entire design as a continuous process rather than a static entity.
Physical Aspect
Don't cut through corners. Start off with schematic drawings of the physical structure, which include both mechanical and electrical requirements. Most control panel manufacturers provide schematic designs that can be modified according to clients' requirements. Analyzing such drawings beforehand would save precious time during installation, and even allow the consideration of future requirements.
It is important to notice that the control panel design should be certified and be along the lines of codes put forth by NEC and UL, so that maximum safety can be ensured for workers and equipment.
Standardization
A thorough, well-thought out plan that entails standard components and wire sizes would greatly increase the reliability of the control panel. Choosing wire sizes according to forecasted load would bring down maintenance costs and decrease subsequent downtimes. Selecting components that are well-suited to handle voltage and load currents would also prevent connected equipment from getting damaged due to faults or under-voltages.
Simplicity
Control Panels should be fitted with equipment that would provide flexibility to the user instead of tying him up to the curse of hard-wiring. The use of equipment should be in such a manner that the requirements are fulfilled, making sure not to complicate simple control-problems with over-powerful devices.
Whether the HMI is based on pushbuttons and pilot lights, or it is completely computerized, best practices should be followed to maintain a uniform feel throughout the plant. For instance, the use of touch screens along with contrasting user interface should be a priority, so that the user is able to respond effectively to any occurrences.
While the products procured should have a balance between price and function, quality should still be a priority. The use of crude equipment may initially cost less, but the greater downtimes and maintenance costs would completely undermine the installation of the control panel in the first place.
PanelShop.com
PanelShop.com takes pride in the quality and worksmanship in our custom control panels. We offer engineering support from concept-to-completion or high quality build-to-print orders.
Whether you know exactly what you need or you're seeking a partner to help develop and accelerate your project, PanelShop.com can help.

You May Also Be Interested In Reading