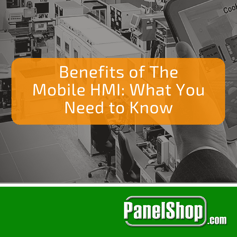 Human Machine Interfaces (HMIs) have long been used in the industrial world to provide users with comprehensive system monitoring and control capabilities. Large LCD panels and screens are generally attributed to HMIs but latest implementations of HTML-5 powered technology as well as increased processing capabilities of handheld devices plan to change this image.
Moving from workstation based controls to handheld ones may sound like a lengthy process, but it is one that's already being implemented within industries. Smartphones and tablets are the key drivers behind this technology, and they are gradually being moved to industrial applications due to greater flexibility and portability they provide compared to location dependent HMIs.
Here are some of the benefits of Mobile HMI:
Instant monitoring of system status

Easy decision making for corporate divisions

Brings down costs required to maintain client-side systems

Internet-based access possible, if provided

Compatible with a host of devices as development would usually focus a popular mobile platform
Industrial plants usually span over large acreage. Workers within plants are highly dependent on the data provided by HMIs. It is much easier to simply grab a phone or tab, and check the latest equipment parameters rather than requesting data from a central system, or worse physically move to the panel. Secure networking is required in order to make this happen, but then again that's a requirement that can't be waved for any industry with a SCADA system.
Siemens, being an industry leader in the world of automation, is now offering an HMI developing suite that lets developers work on solution for mobile devices. Known as WinCC/WebUX, the offering lets plant managers merge their handheld devices into the system. Interoperability has been maintained and Siemens has acknowledged various protocols, making the entire process streamlined, and less hectic.
HTML5 technology has been incorporated within the developing software, which makes it extremely popular given that the language is common all over the web and has a wide range of features to offer. Any mobile device that is compatible with HTML5 can install and use the program, eliminating the need for additional software at client side.
Security is a prime concern in the world of cyber-espionage and insider-trading. Users can be controlled through differentiated access rights, built into the app, making sure no user supersedes his given authority. WinCC/WebUX has been designed from the ground level up, and takes into account all major communication protocols. HTTPs connections in combination with SSL certificates are required at all times, otherwise the program simply won't work. In addition, the server-side application can be integrated into the plant's current security apparatus, providing an additional layer of security to the company's information.
Mobile HMIs aren't the future; they're already here. Companies are gradually introducing this technology to reap the maximum benefits of remote automation, and to reduce the rigidity of their systems that have been designed on decades old principles.
Creating Your Custom HMI Panels
If you need affordable HMI panels for your next project, our experienced staff can help you from concept to completion. PanelShop.com takes the pain out of control panel building by making the process streamlined and simple. Trust our engineers and electricians to help you achieve custom HMI panels for your next project.
You May Also Be Interested In Reading