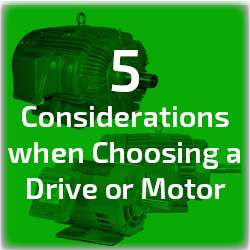 When selecting a motor or drive, there are many aspects of the hardware to take into consideration. There are a number of important characteristics to think about including the actions that you need your motor to be able to perform, the location that the motor will be in, compatibility, sustainability, and cost.
1. Function
Different motors and drives are more effective for different purposes, so you have to think about what you need your motor to be able to do. For example, the main categories of motors are DC and AC and one is a better choice than the other for various situations. DC drives and motors are more simplistic and can give stronger starting and acceleration torques. They also tend to have more additional hardware that can be added for adaptations. AC motors, on the other hand, are a better choice for high-speed processes and systems that require a motor to operate under low load for periods of time. AC drives can easily control multiple motors at once. The needs of a specific system dictate what type of motor or drive you need to start off with.
2. Location
Aspects of the location that the machinery will be in are important factors as well. Depending on the available space, size is a crucial characteristic. Accessibility needs to be considered, too. If the motor needs to be in a place that is difficult to get to, a motor that requires less maintenance is better choice. For example, an AC motor won't need to be tuned up and adjusted nearly as frequently as a DC motor. You also need to protect the system from the conditions on the floor. Motors might need to be able to handle extreme temperatures, moisture, or dust depending on the situation. Plus, if the motor or drive can't handle the conditions, there needs to be an enclosure available that would protect the motor or drive.
3. Compatibility
All facets of the system need to be compatible. Power sources, voltage, and horsepower can vary in different applications, so you have to choose the most appropriate motor and drive for your use. The software and firmware that you have/choose also has to be compatible in order to have effective communications throughout the system.
4. Sustainability
Sustainability is important in a number of ways. You have to think about the lifespan of the hardware. For example, a DC motor, specifically a brushed DC motor, has a considerably shorter lifespan than other types of motors, but could be cheaper initially. However, replacements create additional costs and hassle. The software that runs the systems has to be thought about for the long-run too. To keep things running as smoothly as possible, software updates are necessary. Some drives are more flexible when it comes to software updates. Variable frequency drives, or AC drives, will tend to more easily lend themselves to changes.
5. Cost
Economically, there are a number of factors that go into picking the right motors and drives. The initial cost of DC motors can be cheaper than AC, but AC Drives are more energy efficient, which saves money during operation. Additionally, replacing older hardware with newer can be costly at first, but the long-term gains far outweigh the short-term losses. If you are thinking of updating your system, consider the long term benefits and maintenance costs as well as the up-front price sticker.
---
You May Also Be Intestested In Reading: