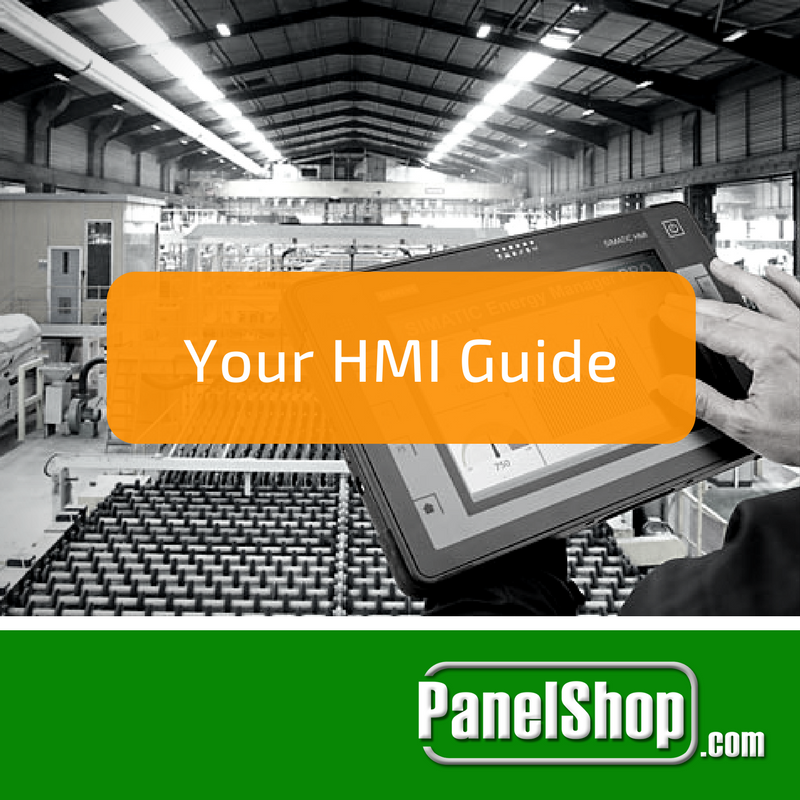 Machines are built to ease up work load on manual labors, but at the end of the day they're controlled by users. The platform that allows these machines to be controlled by users is known as HMI or Human Machine Interface. An HMI is simply an interface, and a very broad term that can be used for devices such as MP3 players & household appliances to process control systems in manufacturing industries. An HMI provides a visual representation of a system, and gives the user real-time monitoring & control capabilities, increasing productivity in a user-friendly manner.
HMI products originated as more complex machinery was developed, and a need for easier operation surfaced. Before HMI, products such as Batch Interface (1945–1968), Command Line Interface (1969–present day), and GUI (1981–present) were in use. While each interface had its own timeline, with some being used even today, HMI stemmed directly from GUI or Graphical User Interface.
A GUI makes use of buttons, text boxes, message boxes, lists, forms, etc. to provide the user with an interactable and easy-to-use interface. HMIs were developed on top of these to allow machines to be operated more effectively.
HMI Explained
Human Machine Interfaces very widely, from control panels to nuclear facilities to mobile screens. But in this case particular, HMIs for manufacturing processes would be under discussion. For manufacturing lines, an HMI control panel offers centralized monitoring & control for the entire industry. A Programmable Logic Controller (PLC) is closely associated with an HMI as it serves as a backend control for every bit of information input/output from the HMI.
Decisions made in visual manner are far easier & comprehensible than those in command-based or manual environments. In order to provide total control to the user, the HMI must be in constant contact with the PLC, allowing it to serve real-time information. The HMI accesses specifics registers within the controller, and presents these to the user in an understandable manner. Similarly, when the user makes a decision, the HMI simply alters the values of the corresponding registers on the controller, eliciting a hardware-based reaction.
Types of HMI
Before HMIs were introduced, they were mimicked by a hardware control panel that consisted of hundreds of LEDs & push-buttons to offer the user similar functionality. Today, the scenario is much different.
There are three basic types of HMIs:
Push-button replacer: This type of HMI has streamlined manufacturing processes and centralized all functions that were previously handled by push-buttons & similar hardware controls.
Data Handler: For systems that required constant feedback from the machinery, Data Handler HMIs were developed. Data handler allows the user to work through functions such as data trends, data logging, alarm handling, etc., putting a great deal of data at disposal.
Overseer: An Overseer HMI is installed whenever SCADA or MES systems are brought in. This type of HMI runs on Windows, and has several ethernet ports for communication. These systems monitor large areas, e.g. entire sites & complex.
Physical Properties of HMIs
The actual physical properties of an HMI vary from model to model, depending on the type of application and the manufacturer chosen for the job. An HMI located in a water plant would be characterized by several water-seals to protect it from malfunctioning. In retrospect, an HMI located in a warehouse wouldn't require such features. The size of an HMI is dependent upon the specific application. If a complex function needs to be controlled then the system may require a number of large LCDs, whereas a meagre application may only require a small black & white monitor. In addition, the technical specifications also vary. For an HMI that must keep track & work with tons of parameters, high amount of memory & processing power is necessary, but for an HMI that only has to provide basic control, a significantly lower resource pool would be enough.
Environmental Aspects for an HMI
Considering the operating environment is an important step that shouldn't be missed when selecting an HMI. For instance, an HMI installed in a warehouse may have to go through excessive vibrations. Similarly, an HMI installed in a food processing industry may have to deal with water, chemicals and other agents. For a steel plant, the temperature must always be considered as a selection factor.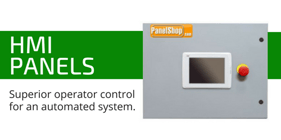 Programming Software
There are three main categories of programming software to choose from for HMIs:
Proprietary

Hardware independent

Open software
Proprietary software is provided by the manufacturer, and can be easily deployed without much hassle. The drawback of using this software is lack of support & flexibility for third-party hardware.
Hardware-independent software on the other hand is interoperable and supports a range of protocols, giving a great deal of freedom to the developer. But, it lacks the level of user-friendliness given by proprietary software.
Open software gives the developed total freedom in the design process, but should only be used by companies with dedicated R&D wings, as they require considerable amount of resources.
Advantages of HMI
HMIs bring with them a number of benefits to the user and factor as a whole. These include:
User-friendliness: HMIs are extremely user friendly as they make use of the Graphical User Interface, allowing for easy identification and instant response. Pictures, icons and other rich elements reduce the need for extensive training.
Advantage over a PLC: Using just a PLC would provide you with basic control over your machines. Features like real-time feedback, alarm management and reprogramming wouldn't be easy. HMIs on the other hand come with a high level of functionality and the ability to handle a great deal of sophistication. With emerging HMI designs, features such as remote access and customizable UIs are also becoming available.
Convenience: The ease of use that comes with an HMI is unparalleled. The functionalities achieved through digitization of a system makes an HMI unbeatable. HMI combines the control features found throughout an automation line and makes them accessible from a single location. Remote access allows operators to become location-independent, and ensure correct operation from everywhere. In addition, it bridges the gap between the corporate & technical divisions, allowing information to be used as its made available.
Interface Flexibility: The ability to personalize the interface is a great selling point for an HMI. Previously, control panels had to be designed in such a manner that they would encompass every possible control within the industrial lineup. This would leave very little wiggle-room, in case an upgrade is made or a change in functionality is required. HMIs can be modified at a moment's notice, and allow the installation of new components without worrying about the hassles of wiring push-buttons & LEDs.
HMI Control Panel Building and More
PanelShop.com takes pride in delivering high quality custom control panels with concept-to-completion engineering support. Whether you know exactly what you need or you're seeking a partner to help develop and accelerate your project, PanelShop.com can help. Call us today or submit a quote, and find out how PanelShop.com offers the best price for the best quality.
You May Also Be Interested In Reading