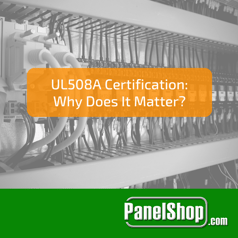 Underwriters Laboratories (UL) is a century old consulting and certification company that is known throughout the world for its stringent levels of certification for electrical devices and components. Industries such as manufacturing, mining, energy, etc. need to follow a certification system for the equipment they procure to make sure their property and personnel are out of harm's way. Out of the several UL standards that exist, company's that provide electrical components should be UL508A certified.
UL508A standards are specifically written for industrial control panels, and all the associated components such as circuit breakers, fuses, motor controllers, pushbuttons, etc. The certification makes sure that these devices are installed correctly, and their operation won't put the lives of workers at risk.
Still, UL508A has some restrictions. These may be jotted down as:
Equipment controlled by panels
Limited to applications below 600 Volts
Not entirely sufficient for control panels that work under hazardous environments
The UL508A certification is nonetheless a vital requirement for industrial control panels, and even without any supplementary certifications, enough to guarantee plant safety. Through UL508A certification, both the installation and the operation of the equipment would be covered, giving peace of mind with respect to material and human safety. Once onsite safety is guaranteed, productivity would boost and downtimes would be cut, leading to greater profits and therefore better avenues for success.
Interested in learning more? Contact an expert, or visit our website: PanelShop.com.
You May Also Be Interested In Reading