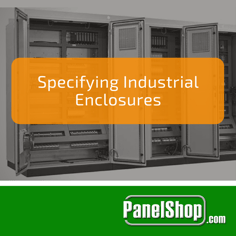 Industrial environments are volatile. Things can go wrong within minutes or stay stable for months. Nonetheless, ample protection is necessary to make sure things keep going as smoothly as possible. Enclosures are vital for any industry as they provide a housing for all cables, electrical equipment and termination points.
Nowadays, industries are getting increasingly digitized, so additional equipment is required that serves as a gateway to manual controls. Enclosures also provide due protection against RF waves as well as from environmental factors such as moisture, sunlight, etc. Plant managers in oil, gas, material handling, and virtually any industry are therefore keen to make sure all their equipment is safe as break in operations can result in lost time, resources and reputation.
Know the Requirements
When it comes to specifying enclosures, a one-size-fits-all approach doesn't work. Knowing the requirements is very important as it ensures a cost-effective, and practically viable solution is proposed for protecting machinery. The application can be known by mapping out the function of the enclosure system that will serve your machinery. For instance, if an enclosure is to be proposed for an electrical drive house, it should be planned in advance as to how many doors it would have, as well as how much housing it requires for future upgrades.
Environmental Constraints
Next, you need to know exactly where you want to deploy this solution. UL and NEMA ratings are available for each enclosure that specify the type of contaminants and conditions its able to withstand. For example, an enclosure built for outdoor environments installed in an indoor facility would simply be a waste of money. Sure, it would provide hardened protection but at a large-scale, that's simply a waste of resources. Similarly, an indoor enclosure installed in an outdoor environment would not function and put your equipment at risk of malfunctions.
High temperatures is one of the major reason for equipment failures. This is something that not only has costly repercussions but also puts a break in operations. As the use of electronics increases, more enclosures would require proper cooling vents and air conditioning. Taking into account this factor is therefore important before specifying an enclosure.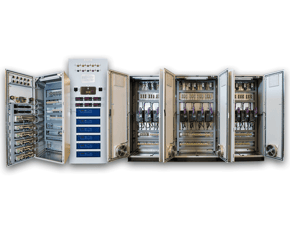 Aesthetics
The appearance and layout of the entire facility may be a matter of concern for a manufacturing industry that has frequent visits from clients. Therefore, investment in a more aesthetic, neat and uniform enclosure may be a more viable solution that one that's functional but unattractive.
Cabling
It is very helpful to know in advance the type and number of cables that would go into the enclosure. Knowing so would allow the designer to make necessary adjustments beforehand, rather than uprooting the entire thing. Furthermore, it should be known in advance, how often the enclosure would be serviced. For instance, components such as doors and panels can get weary when often accessed. If frequent access is necessary, then proper investment should be made and premium materials should be used. This would be very beneficial in the long-run as repair-works would be limited, and with that halt in operations as well.
Interested in learning about PanelShop.com's offerings and solutions?
You May Also Be Interested In Reading