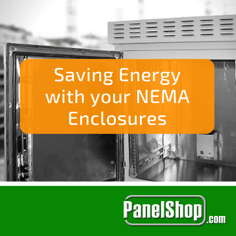 Control enclosure have slowly but surely taken over industrial plant floors, providing safe & secure housing for electronics, process control equipment, drives and PLCs. NEMA rated enclosures have become a norm in the automation world as the thermal management of the enclosed equipment became more significant and vital.
Industries as we all know it are harsh places, with the looming threat of varying temperatures, fluid spills and gas discharges. In the face of such harsh environments, NEMA cabinets provide perfect protection for sensitive electronics equipment. Most electronics and related equipment are designed to work at optimum levels at a specific range of temperature, usually 40 – 50 degrees Celsius, which is why it has become imperative to have a protective cabinet. But along with the thermal management comes the complex problem of power management, which if not done properly can ramp up the maintenance and running cost of the floor.
There are a few select rules that can be followed while selecting a NEMA enclosure:
Go for a cabinet that's large enough to house all your equipment but at the same time heat
discharge to take place through the process of convection. If the spaciousness of the cabinet doesn't allow you to make such a choice, move on.

Pick a fan and a filter for your cabinet. This way you can keep the equipment running at the specific temperature range while keeping it free of dust, something that's highly likely in outdoor environments. Moreover, you can also save a bit of cash as the extra maintenance of cleaning the equipment would be taken care of itself.

Next, you can install an air conditioner within the NEMA enclosure. Solid state air conditioners are perfect for that matter; the energy consumption usually accounts for 1 watt of power consumer for 1 watt of heat removed.

If that doesn't fit your need, opt for air compressor coolers, which generate an air cyclone using the air in your plant, cooling the inside of the cabinet. The only downside is the accumulation of dust within the cabinet if the plant's air itself is contaminated.

Finally, you have for yourself heat exchangers. These devices are becoming increasingly popular due to the level of energy savings they bring with them. Most heat exchangers are dust-free, and can also provide protection from moisture and corrosion. If required, their output can be varied with a thermostat.
For most outdoor applications, a sun shield should be seriously considered in addition to one of the above cooling methods. Remember, always weigh the initial investment with the long term RoI, as sometimes a high-tech air conditioner may not be the best of choices for a short-term outdoor installation. Energy savings should always be considered as with the passage of time shaving off running costs would become an integral way of staying a step ahead of the competition.
Call PanelShop.com today or submit a quote and our knowledgable support staff will be happy to help you in any way we can.
You May Also Be Interested In Reading