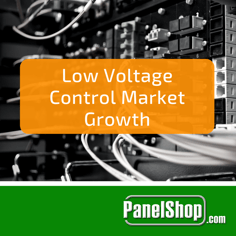 Fast-paced industrialization and urbanization has contributed greatly to the rise of low voltage industrial controls in several industrial sectors. Industrial controls make up one of the most vibrant sectors because it is present and/or overlaps several other industry verticals. Advancement in technology and cost-effective production have all helped the low voltage control market to gain new heights.
Overall, the low voltage industrial controls market can be divided into three segments: products used in industrial controls, applications, and geography.
Industrial Controls
The products market for industrial controls includes the classification of usage based on the requirement. The products used in industrial control include, but are not limited to the following:
Magnetic contactors

Motor starter

Thermal overload relays

Enclosures

Residual current devices

Switching devices
Even counting these current segments of the product market, the number of products is growing every year. This indicates that low voltage control will continue to grow and become a stronger force within the industrial market.
Applications
The applications market consists of eight segments, all of which cover major applications of low voltage industrial controls:
Process industry

Manufacturing industry

Transportation

Aerospace and defense

Commercial

Residential

Telecom

Renewable energy
The process and manufacturing industries in particular are prime drivers of low voltage industrial controls market. All the industries listed above are major ones, with almost every single one experiencing year on year growth. This in effect translates into a wider market for the low voltage controls industry.

Geography
The geographical market within North America consists of US, Canada, and Mexico, with the US being the largest market due to the presence of major electronics and semiconductor industry within its borders. However, Canada has been identified as the fastest growing region, specifically in applications that aim to reduce the carbon footprint.
This increase is apparent in the market value for low voltage controls in the Western Hemisphere. In 2014, the North American low voltage control market was valued at $4.94 billion. In 2020, its projected value is $6.30 billion. This is due to the expanding product segment of the market and Canada's low voltage control market growth.
With the continued rise in the use of low voltage controls, it's important to be aware of the market. Industries are constantly changing as new methods and technologies are developed and put into practice. Given the predicted growth of the low voltage controls market, it will be an important industry to watch in the coming years.
Contact PanelShop.com today for a quote on your control panel design and building needs!
You May Also Be Interested In Reading