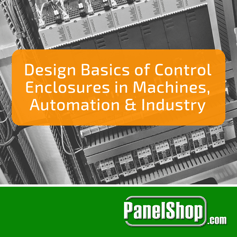 Your PLC, contractors, relays, safety systems, and every other piece of control hardware requires a safe & secure home for proper, uninterrupted operation. Specification of control enclosure is a process that requires consideration of several requirements from physical size to environmental ratings to thermal thresholds. A step by step approach is therefore well-suited to ensure all the required boxes have been checked.
Layout
Whenever you're planning on installing a new control enclosure, the first thing you should do is have a chalked-out or at least an overall electrical schematic. From the very start, engineers should follow the best practices & standards in use to make sure every individual involved in the installation process can understand what's going on.
Function
The design and form factor of the enclosure is heavily governed by its location & function. Various types of enclosures exist such as free-standing, wall mount, rack, consoles, hazardous, etc. The requirements and specifications related to each type of enclosure are unique and should be understood beforehand.
While working on the form factor, engineers should stay up to date with the mechanical designers. Industrial workspaces are often short on space, and mechanical designers don't shy away from "fitting" enclosures between components. Staying alert regarding the dimensional requirements would make sure that enclosure physically fits the requirements.
Safety
Enclosures are installed primarily to keep the hardware dry & clean. NEMA & IP ratings are the key to understanding the level of safety you require or a particular container is offering. They specify protection against solid foreign objects and liquids, with NEMA also specifying protection in the face of corrosive substances.
IT enclosures are suitable for climate-controlled room where the NEMA-1 configuration applies perfectly. However, the ratings can take a quick hike to NEMA 12, 4 or 4X (having protection from corrosion), when it comes to industrial environments. The ratings are entirely dependent on the type of materials the hardware will be exposed to.
The protection of personnel as well as the hardware is dependent on every single component of the enclosure. Something as simple as the handle can greatly impact the level of protection provided by the enclosure. The designer should therefore keep into account the need for door interlocks and through-door disconnects.
Next, temperature thresholds should also be duly noted. Sensitive electronics equipment may require an air-conditioned enclosure to ensure continued operation. Usually a consistent and narrow range of temperature needs to be maintained, and these requirements must be embedded within the enclosure design.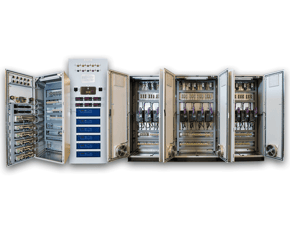 Aesthetic sense
Is it enough for the enclosure to corrode from the outside or look burnt, while keeping everything on the inside protected? The answer is yes and no, depending on the location the enclosure will be installed. If the enclosure is being installed at the frontlines of your operations, which is likely to be visited by a client, then spending a few extra bucks on polishing won't hurt. In fact, having multiple treatments such as lubricants, resistant oils and machining emulsions would ensure a longer-life for the enclosure and make it less prone to mechanical failures.
Interested in learning about PanelShop.com's offerings and solutions?
You May Also Be Interested In Reading