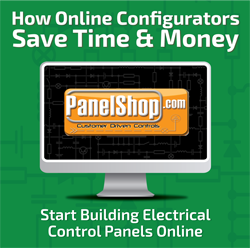 "Time is money," the old saying coined by Benjamin Franklin back in 1748 still rings true today and continues to be one of the fundamental principles in business.
In the vast, but highly competitive online marketplace, buyers' "I want it now" attitude has only increased and added an extra emphasis on customization and delivery. At PanelShop.com, we are committed to saving time, and helping you save money by using our quick and easy online configurator to build your electrical control products, custom control panels, and any automation need.
Understanding your Electrical Control Needs
While many customers come to us with a complete understanding of their needs, they often have been handcuffed to local panel builders to fulfill their needs. This can create problems when precise engineering is needed, or if the local option will only use their preferred brand of products for panel assembly. Using an online configurator allows customers to achieve quick pricing, the freedom to choose a preferred manufacturer, and feel confident in standardized assembly and testing by our team of highly trained engineers and technicians.
While many large scale manufacturers offer similar configuration tools for electrical control panels, they tend to only allow access to their distributors, keeping you from building exactly what you need. By not taking advantage of online configurators, customers and end users are forced to spend time, money and resources that could be useful elsewhere.
Saving Money and Time
Through a traditional method of ordering an electrical control panel, companies were forced to go through a lengthy phone conversation, drafting and engineering period, all charged at an hourly rate. By using an online configurator, saving money has never been easier for a business. Our online configurator allows you to skip the early traditional stages and jump directly into making base selections for your panel. Time savings considered, this is a substantial part of the nearly 30% cost savings for smaller sized panels.
With PanelShop.com's online configurator, getting a quote online significantly reduces the amount of a customer's time spent in the procurement process. Another advantage of our configurator is giving users the ability to get multiple bids from several different manufacturers, adding dramatic time savings while adhering to many company's multiple bid policy for purchasing. Our standardization of manufacturing provides low risk for companies who demand quality and expertise without paying a premium price tag.
PanelShop.com offers customer driven controls, letting you build and configure a customized electrical control panel or product online to best suit your automation system. PanelShop.com offers a fully equipped, 35,000 sq ft. production facility, being able to handle panels of any size. Using our online configurator we'll provide you with an instant price and schematics saving money and time for your business.