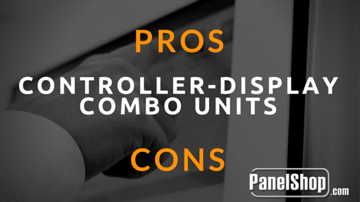 As technology evolves and improves, the goal is to always make things more simplistic, effective, efficient, and cheaper. Sometimes that means combining previously separate devices. One option is to combine machine controllers and operator interfaces or more simply known as a PLC/HMI combo.
Advantages include characteristics that you would look for in any new machine; they are cheaper, smaller, and less complicated. One combined unit is cheaper than two separate ones, and one PLC/HMI combo unit takes up less space. It also simplifies things because it already has any wiring and communications completed that would be required between two devices. This can also limit costs for set-up/installation and down the road in maintenance expenses.
Of course with any new technology, there are disadvantages to a combined unit. If something goes wrong, that means both systems will be affected. With separate machines, one issue might not take out both systems. Combining functions also means that there are limitations on functions that would normally be separate. Units can both be more advanced and expansive individually than they can be when combined.
There are options to make a combined controller more high-end, though. A basic unit would be a combined PLC with an operator interface terminal (OIT). A more advanced unit would combine a PC-based controller and a full-fledged HMI. However, a more basic combination is all that is needed for controlling more basic machines.
Of course any unit can be upgraded with more processing power, more interface ports, touchscreens, etc. Over all, if the needs of the machine aren't too out of the ordinary, a combined controller and operator interface is a favorable alternative to two separate units.
You May Also Be Intestested In Reading