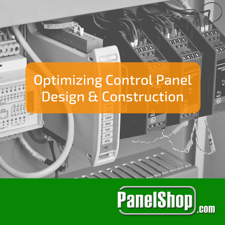 Recent technological advancements have brought improvements to conventional control panel design and fabrication, by a great deal, and if implemented properly can result in lower running cost and higher return on investment. Optimizing control panel design isn't just part of the modernization process, it is more of a need; one which can bring in a number of positive changes to the conventional working of a plant.
The top five issues currently faced by CEOs include:
Productivity

Costs

Operational efficiency

Increasing competition

Achieving top-line growth
Whichever company manages to tackle these issues, even by a fraction, can gain an edge over the competition and succeed in the dynamic economic landscape of today.
The performance of control panels is directly linked to these five factors, and one that is designed and fabricated along the lines of modern technology can bring the client company closer to gaining a foothold over the competition.
Cost-Reduction
Conventional control panels are limited in their features and functionalities as they are most likely hardwired. Material costs are relatively constant during control panel production; however, the cost can be brought down greatly if a flexible and customizable design is put into process. Creating a standardized layout with hardwired controls replaced by equipment such as programmable interfaces can reduce manufacturing costs as well as time that is otherwise utilized during wiring.
Furthermore, processes such as wire stripping and marking should also be delegated to automatic machines, which would reduce chances of error as well as put the productivity of human labor at better use.
Control panels face another limitation due to hardwiring. Whenever wiring is bundled at one place, especially the doors, a severe limitation is added into the entire control routine. Such a limitation can greatly reduce users' control over the panel, which during emergencies is a detrimental factor. With the passage of time the wire density is bound to increase, and at one point make the operation of controls almost impossible. Therefore, special steps must be taken beforehand to ensure the proper insertion of wires and formation of connections.
One of the best ways to tackle issues related to wiring is maintaining a proper documentation regarding each connection, control and wire duct. Doing so makes it easy to modify the design without putting the entire system at risk of breakdown. In addition, an efficient control scheme would provide client companies with an idea of how to manage their control panels as requirements inflate.
Simplifying Connection Methods
Reducing the number of point-to-point wires in a control cabinet can greatly improve productivity, cost-efficiency and fault rectification. Introduction of fieldbuses was the first step to eliminating hardwired controls in manufacturing industries. However, point-to-point wiring is still a prerequisite for the connection of control components to I/O modules.
Eliminating the need for such wiring through direct connections to PLC's CPU could truly accelerate the engineering, assembly and testing processes of a control cabinet. Such direct connections are now possible, bypassing the need for I/O wiring, in the form of device-level wiring systems such as contactors and motor starters.
These smart modules are first connected to a gateway module via a flat cable, which is in turn connected to a standard fieldbus on the PLC's CPU. This eliminates the need for I/O wiring that is typically associated with controlling motor starters & control circuit devices.
The replacement of conventional wiring techniques with smart modules result in fewer material costs, shorter panel assembly time, and almost eliminated testing time. Furthermore, the need for engineering, design and assembly is also reduced and commissioning of control panels can be put on the fast track.
PanelShop.com
PanelShop.com takes pride in the quality and worksmanship in our custom control panels. We offer engineering support from concept-to-completion or high quality build-to-print orders.
Whether you know exactly what you need or you're seeking a partner to help develop and accelerate your project, PanelShop.com can help.

You May Also Be Interested In Reading