Since the industrial world first integrated with electrical control, methods of measurement have played a central role in testing and repair. Today, the two most commonly used measurement tools are the oscilloscope and the multimeter. What are the differences between scopes and multimeters, and when should you use them?
Multimeters
Electrical current detection tools have been around for as long as the knowledge of electricity. The first standard measurement device, the galvanometer, was invented in 1820!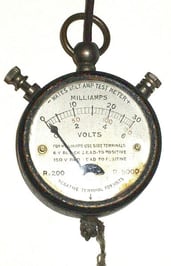 The multimeter arrived on the scene in the early 1920s as radios, cars, and other electric technology become more mainstream. In those days, multimeters were often designed to look like pocket watches and used to test batteries more than industrial electrical equipment.
Now multimeters have come a long way, delivering precise digital readings for the voltage, current, and frequency of a signal. Digital multimeters are highly accurate workhorses for electrical control panel testing and repair, allowing technicians to easily evaluate voltage, current, and resistance. Walk into any modern panel shop and you're almost guaranteed to find this handy device in use for testing and repair.
Advanced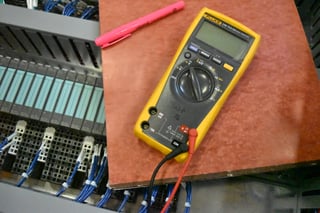 digital multimeters measure additional electrical parameters, such as temperature, capacitance, conductance, decibels, inductance, continuity, and much more. Some digital multimeters offer features like data collection, automatically sending reports to a smartphone or computer.
Many control panel builders prefer digital multimeters for this advanced functionality and high accuracy, but some engineers still use analog to visually monitor sensitive meter movements by the swing of the needle.
Oscilloscopes
The first iteration of the oscilloscope was invented in 1897, but was not adapted fo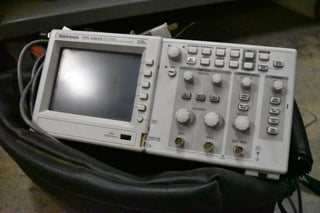 r use outside labratory conditions until 1931. Now oscilloscopes, or scopes, are much more flexible and often portable for modern electrical testing.
While most multimeters produce numerical measurements, scopes display measurements in graphs. Scope graphs represent voltage signals as waveforms, tracking variation over time and making signal anomalies obvious at a glance.
Like the multimeter, scopes are often digital with advanced features like automated data collection and a full suite of electrical metrics. But scopes take measurement a step further than multimeters, displaying the signal strength and shape of waveforms in real-time.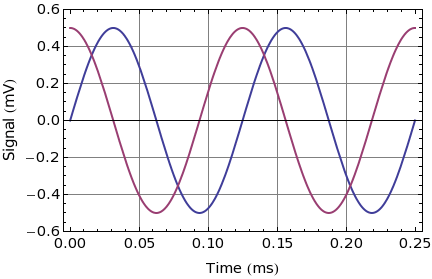 While digital multimeters are standard for testing industrial control panels, oscilloscopes are a great option for in-depth testing and repair in the field.
Scopes provide both quantitative and qualitative measurements, providing engineers and technicians with a robust tool for evaluation.
Should I use a Multimeter or an Oscilloscope?
When it comes down to it, digital multimeters are the tool of choice for everyday testing in the shop, while scopes are ideal for diagnostic troubleshooting in the field. However,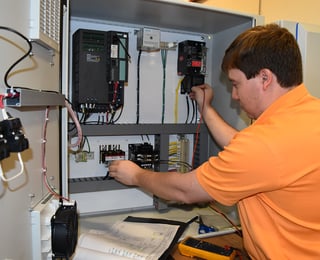 both tools are valuable to keep on hand for any control panel builder to cover a broad range of electrical measurement needs.
PanelShop.com fabricates custom control panels for industrial users all over the world. We are a single source provider that designs, builds, and tests our panels here in the United States.
Our engineers and technicians constantly test, troubleshoot, and repair control panels using multimeters, oscilloscopes, and more to ensure the highest quality product for our customers.
If you're seeking a true partner for your next panel project, reach out to us for a free quote and we'll build your design to print or consult with you on a custom control panel from concept to completion.
You May Also Be Interested In Reading